The FUT Web App is your perfect companion for Ultimate Team in FIFA 23. Find out how the app can support you in building a great FUT squad and what you can do if there are problems with the login.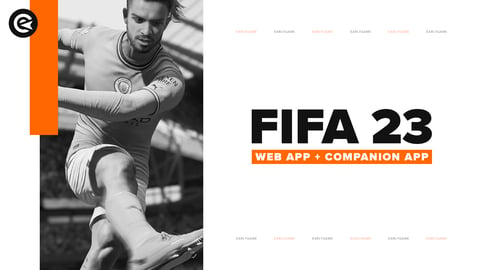 Anyone who is grinding hard in Ultimate Team in FIFA 23 should use the Web App or the Companion App. That's a fact. The two tools make your life way easier. Don't be confused by the different names, the Web App is for your browser – the Companion App is downloadable for your smartphone.
So, you do not have to download the Web App. Instead, you simply open your browser on your laptop, PC or mobile phone and go to the Web App's official website. You should keep your data ready, because you need to sign in with your EA Account.

We'll show you everything you need to know about the web app. This includes the official release date, the most important features and tips and what you can do if you have login problems.
FIFA 23: FUT Web App Release Date
This season, the Web App was available from September 21, 2022 – the Companion App was released one day later.

Anyone who uses the Web App has massive advantages in FUT, especially at the beginning. Since the official release of the game wasn't until September 30, 2022, the first grind could be started nine days in advance with the app.
FUT Web App: Features And Benefits

The Web or Companion App has been the best and most popular trading method for starting a new FIFA game for years. For example, if you're on the train and see that prices for certain players are increasing, you can use the companion apps to react directly – but that's not all:
Line-up: You can customize your starting XI to perfectly keep track of the new chemistry
FUT Shop: Packs can be purchased or redeemed and opened within the apps
Transfer market: You can also sell cards you don't need – or sign new stars
Objectives, SBCs and Bonuses: Check out Objectives and Squad Building Challenges, what you have to do to unlock them & get bonuses for your club
So as you can see, you can always manage and customize your FUT club with the apps – no matter where you are.
Responding early to fluctuations in the new transfer market, or being able to complete new SBCs faster than the rest of us, is always a huge advantage.
FUT Web App: Log In Problems & What You Can Do
There are login problems from time to time due to server problems. EA Sports servers are known for bogging down under heavy load. You can check the status here:
If the servers are down, it is clear that you will not be able to log into the companion apps. Unfortunately, if there's a more specific issue behind it, there's not really much you can do about it.
So, the best thing you can do when the servers are down, or you can't log in is to wait. In the vast majority of cases, the login will work again after a while, or after you have tried several times. Except EA produces another epic fail – which also happens from time to time...
This article contains affiliate links which are marked with [shopping symbol]. These links can provide a small commission for us under certain conditions. This never affects the products price for you.