In another bizarre development, Dragon Age 4 has now lost its Executive Producer.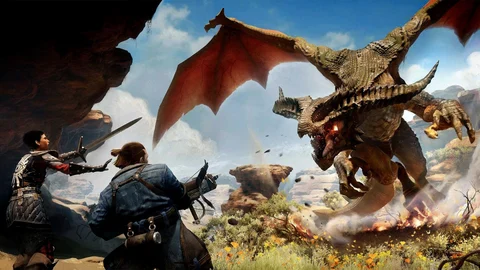 Bioware has assured fans that, despite the sudden and unexpected departure of Dragon Age 4's Executive Producer, the game's production is well underway. This comes after several high-profile departures from the studio following the highly disappointing Mass Effect: Andromeda and Anthem.
Christian Dailey, who became the game's executive producer in 2020, is sadly departing the Dragon Age 4 team. He will be the next of many, in a line of high-profile resignations that include big names like Casey Hudson and Mark Darrah, who both departed in 2020. The game's senior director, Matt Goldman, also left the project last year.
Considering the rabid excitement that fans have for the follow up to 2014's excellent Dragon Age: Inquisition, you would think that the studio's disarray would be a worrying sign. However, Bioware's general manager Gary McKay took to the Bioware Blog today to console weary players, and confirm that Dragon Age 4 is well on track...
In the blog, McKay confirmed that Dragon Age 4 is now well and truly out of the "blueprint" phase of its development, and that the team is hard at work making the game a reality. Amidst his sad farewell to Dailey he reassured fans, stating:
Our blueprint was completed last year, so we're now focused on building out our vision: creating amazing environments, deep characters, strong gameplay, impactful writing, emotional cinematics – and much more. The blueprint for the game is well understood and the team is focused.
Now, listen, McKay goes into a whole lot of detail about the specifics of Bioware's development structure and the way that leadership works at the company. Do you really want to read about that in great detail? Yes? Well, then check out the original blog post via the link about. No? Well then here's that glorious teaser trailer...
Bioware is also working on the next Mass Effect game, something that McKay also mentions. He says regarding the project:
We're also working on the next Mass Effect. The team, led by Mike Gamble, is made up of a team of veteran developers as well as some new, really talented people. They are all actively prototyping new ideas and experiences. AAA next-gen games take a long time to make – and we know our fans may want them sooner. But our Number One priority needs to be quality, and that simply takes time to get it right.
So there you have it, folks, our first few hints at Mass Effect 4 and Dragon Age 4 in a long, long time. Bioware might seem to be in trouble, but it is really great to hear and see that they are doubling down on quality. This was the core problem in both Mass Effect: Andromeda and Anthem, as both games suffered a lot from both a messy, unreliable and bug-filled launch, and a general lack in overall quality.
With any luck at all, Mass Effect 4 will rival Mass Effect 2 in quality and Dragon Age 4 will be... well... as good as all the other Dragon Age games. In the end, Bioware have a history of making incredibly good games, despite a few week years. It's amazing to see Bioware admitting to their mistakes, taking the time they need, and hopefully making great games once more.