Elder Scrolls 6 has been in the talks for years now, and one job listing could hint at a very interesting new feature in the game.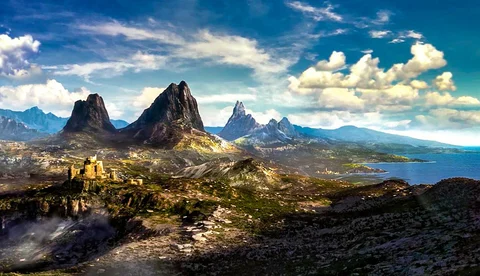 The Elder Scrolls 6 was teased all the way back in 2018. Yes pre-Covid times were a thing and back then at E3, we were all hyped and excited for the Elder Scrolls 6, but since then not much information has been revealed about the upcoming game.
Finally, a job posting online could have some answers though and reveal just what kind of a game Bethesda has been cooking up in their basement for fans to enjoy.
Elder Scrolls 6: Open World Multiplayer Teased
There has not been a lot of information on Elder Scrolls 6. Unfortunately, we have to go off of leaks and rumours 90% of the time, but this information comes from a ZeniMax job listing, in which the applicants need to have multiple sets of knowledge.
The job listing is for an Associate Level Designer and while they need to know "3D game space and environmental story telling", as well as "Elder Scrolls Construction Set", what we are most excited for is that applicants should be familiar with "a variety of open world multiplayer games."
To play Elder Scrolls 6 you will likely need an Xbox! So pick up an Xbox Series S before the release of the game.
Now, we might just be grasping at straws here, but this could mean that the Elder Scrolls 6 could include some form of online aspect to the game. Bethesda has been known for their single player titles like Skyrim and Fallout, but more and more developers are adding online components and aspects to their games, so it's highly likely for Bethesda to follow the trend as well.
Unfortunately, not much else is known and we're still desperately waiting for a release date, or at least some drop of information on the next Elder Scrolls game, but we're being kept on our toes, having to scrape information from the farthest corners of the internet.
What would an online mode in Elder Scrolls look like and what would it include? We need to know Bethesda!
This article contains affiliate links which are marked with [shopping symbol]. These links can provide a small commission for us under certain conditions. This never affects the products price for you.