A great game awaits us on which many fans are insanely hyped! Summoners War Chronicles, off to the adventure.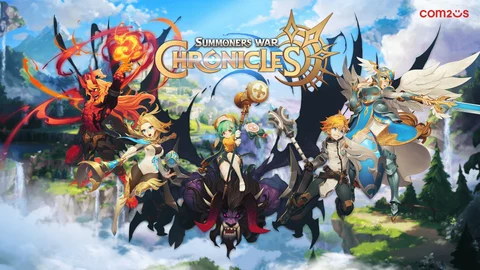 Com2US has published Summoners War: Chronicles, an MMORPG that is available worldwide today.
While the game features the same monsters as other Summoners franchise games, it employs a new gameplay and art style that sets it apart from previous Com2US games.
Summoners War Chronicles: Fight With Your Familiar's From Sky Arena
With an open-world action-based combat system, world development, and an art style similar to that of Genshin Impact and Tower of Fantasy, Summoners War: Chronicles is poised to compete with these popular games.
You still need the right equipment before rushing into battle? For a great experience we recommend the Logitech G 733 headset!
In its home region of Korea, the game has already earned an impressive number of over 1 million pre-registrations, thanks in part to Com2US's extensive marketing campaign.
Hungry for more games? Then look here!
Summoners War: Chronicles boasts a collection of over 350 monsters from the Summoners War franchise, making it an attractive option for collectors and fans of the gacha genre.
One of the game's key strengths is its diverse art styles, which aim to appeal to a broad audience.
February might be ending but lots of update information is headed your way!

Check out the latest Dev Notes and what's to come to #Chronicles in March.

Full Details:https://t.co/zM1g4Mv8Ub#SummonersWarChronicles #PlayChronicles #Com2us #iOS #Android #PC pic.twitter.com/U63Yvjz0li

— Summoners War: Chronicles (@play_chronicles) February 28, 2023
Unlike previous Com2US games like Summoners War: Sky Arena and Summoners War: Lost Centuria, Summoners War: Chronicles has moved away from a cartoonish art style.
The global version of the game's official website is currently live, and players can register to receive rewards and the opportunity to win real-life prizes when the game launches.


The game will be available on both mobile and PC platforms. In the future, the game is also planned to be released on Xbox.
Summoners War: Chronicles offers players an exciting storyline that takes place in the Rahil Kingdom, which is set in a period of peace after two previous wars.
However, this peace is threatened by a mysterious enemy that wants to bring destruction to the kingdom, and you'll play as graduates of the Rahil Magic Academy who are recruited to protect the kingdom.
The game features five maps/continents with different challenges that range from a desert to a forest to a cold biome and a volcanic canyon.
As the title suggests, players will have the power of summoning and gain access to different monsters with five different attributes that can be awakened as they progress through their journey.

In Summoners War: Chronicles, players can choose from a range of gameplay modes, including single-player, co-op, and competitive options in an open-world map.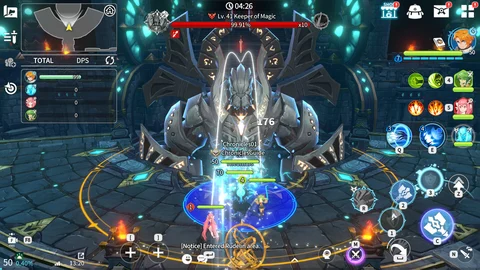 With its engaging storyline, unique art style, and a massive collection of monsters, Summoners War: Chronicles is sure to be an exciting addition to the Summoners War franchise.
The Gacha System Explained
Summoners War: Chronicles features a straightforward gacha system where players can summon monsters or "pets."
Currently, the game only allows summoning for pets, but the developers have hinted at the possibility of adding weapon summons in the future.
The gacha section is denoted by a "ticket" symbol in the main menu, or by toggling the triple bar menu from the left-hand side of the main menu.
The game has a low chance of obtaining the highest rarity monsters, with only a 1% probability of obtaining a 5-star monster.
The summoning rates for all rarities of monsters in the game are as follows: 5-Star Monsters (1%), 4-Star Monsters (9%), and 3-Star Monsters (90%).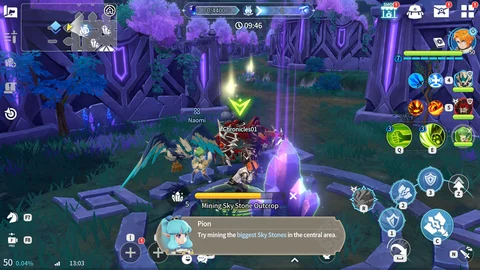 Obtaining a 5-star hero is considered a great achievement due to the low rates.
The summoning rates for the highest rarity monsters in Summoners War: Chronicles are extremely low, even when compared to other gacha games in the same genre.
The game's gacha system favors the lowest rarity monsters, which are much easier to obtain.
However, the game does have a pity system in place, which guarantees players a Legendary Summoning Scroll after they have summoned 70 times on a single banner.
Although this scroll allows players to summon a 4-5 Star monster, the chances of obtaining a 5-Star monster are still very low.
To increase the chances of obtaining a 5-Star monster, it is recommended to re-roll with the pre-registration rewards before starting the game.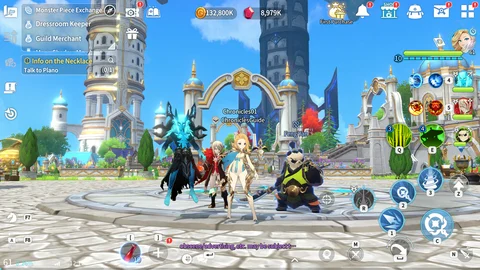 When starting a new account in Summoners War: Chronicles, players will encounter different types of summoning banners:
The Beginner Recruitment Summoning Banner is the initial banner that every new player encounters after completing the tutorial. It's the only banner available for summoning, and each player is given 10 pulls, with each pull guaranteeing a 5-Star monster. However, only one 5-Star monster can be acquired per 10 pulls, and the roster of 5-Star monsters available from this banner is limited. Players can do the 10 pulls up to 30 times and keep the desired one, and the recruitment banner disappears after the player collects the desired 10-pull summon rewards.
The Normal Summoning Banner is the generic banner where players can summon 1-4 Star monsters available in the game. Normal Summoning Scrolls are required to summon on this banner, and it has no pity system.

The Normal Mystical Summoning is the banner where players can summon 3-5 Star monsters available in the game. Players need to use Mystical Summoning Scrolls to summon on this banner, and it has a pity system of 70 summons for a Legendary Summoning Scroll.

The Rate-UP Summoning Banner features the newest monster released in the game or any 5-Star monsters in the game. Players can summon 3-5 Star monsters from this banner, and they require Mystical Summoning Scrolls or Crystals to summon. It also has a pity system of 70 summons for a Legendary Summoning Scroll attached to it.

Additionally, the different elements play a role: The Fire, Water, and Wind Summoning Scrolls are elemental banners that allow players to summon only 3-5 Star monsters of their respective elemental types.

The Legendary Summoning Scroll is a banner that allows players to summon only 4-5 Star monsters available in the game, but it does not have any pity attached to it.
Combat System and Gameplay
Summoners War: Chronicles has a versatile and enjoyable combat system that rewards players who enjoy skill-based combat.
Players can drag and deploy their moves and abilities, while also benefiting from auto-casting monster abilities.
However, at higher levels, dodging incoming attacks becomes more challenging, and positioning on the battlefield becomes crucial for success.
Despite being a new game, Summoners War: Chronicles offers a rich selection of PvE and PvP content, including the ability to form a team of three monsters to assist in battles.
The game also supports cross-platform gameplay.

While players can actively switch between their monsters, this feature gets locked out during active battles.
Players have access to four types of skills and abilities, including Active Abilities with cooldowns, Passive Abilities that are always active, a Dodge Button to quickly move in a targeted direction, and a Normal Attack button for standard attacks.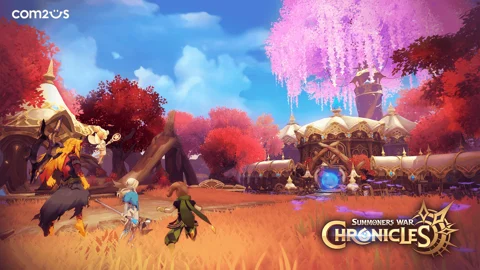 Summoners War: Chronicles follows a strategic system of element versus element matching, where each element is weaker or stronger than another.
Your character's element and abilities depend on the weapon they wield during battles.
Players can switch between weapons to change their abilities and element, but they cannot do so during active battles.
Level-Up System Explained
Summoners War: Chronicles is an MMORPG game that focuses on player experience and leveling up.
To progress in the game, players need to complete quests, side stories, raids, PvP game modes, and exploration to gain experience.
Main quests, located at the top right-hand side of the game's menu, provide clear objectives and rewards for completing them.
The game supports an Auto-Pathing and Auto-Battling feature to make grinding easier.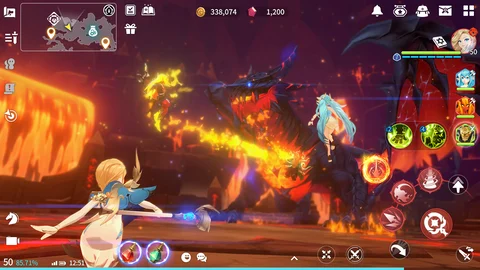 Most main quests involve menial tasks such as fetching materials, delivering materials, and killing enemies.
By completing main quests, players can unlock various content such as: Guild, Arena, Battlefield, Party Dungeon, Tower of Trials, Tower of Heaven, Caiross Dungeon, Road to Growth, Expertise, Equipment Fortification, and Exchange Market.
These systems add depth to the game's progression and provide additional rewards for players.
This article contains affiliate links which are marked with [shopping symbol]. These links can provide a small commission for us under certain conditions. This never affects the products price for you.