Published in 1973, The Invincible became an international best-selling novel. It's being adapted by Starward Industries into an action-exploration video game. But what can you expect from this game? Let's find out!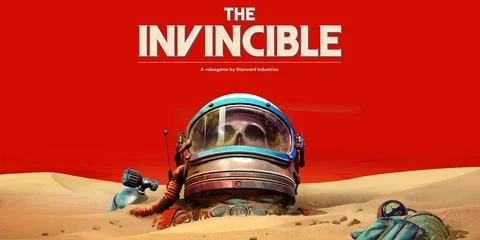 An expansive yet barren planet waits for us in Starward Industries' The Invincible. We must fight on an inhospitable world named Regis III while robotic androids and untamed humans seek to destroy us.

Starward Industries has developed an impressive action-adventure game, as realistic textures have been considerably polished. This creates an environment that feels tangible & concrete, almost as if you are experiencing real life. It's an ambitious adventure from an independent studio, and EarlyGame couldn't be more impressed with this group of 27 developers.
The Invincible uses Stanislaw Lem's novel of the same name as inspiration for their action-adventure game. Therefore, anyone could learn about the outcome of this game. But Game Director Marek Markuszewski has noted some differences between the two properties, and we're here to categorize those differences for you. Let's begin.
Is The Invincible Coming Out In 2023?
Starward Industries is entering its final phases of development for The Invincible. As such, this action-adventure game isn't expected to launch until Q3/Q4 2023. The release date could be sooner than the expected launch window, as The Invincible can be added to your Steam Wishlist today.
It's noted that Starward Industries isn't publishing The Invincible. Instead, 11Bit Studios will publish this game onto next-generation consoles and PC. We will update you on the official release date when it's announced.
Game Setting, Story, And Everything We Know About The Invincible
As previously mentioned, The Invincible is set within the fictional world of Regis III. This planet is identical to Mars, but there are critical differences between the two planets. For instance, humanity has explored this landscape for decades & they have created an entire ecosystem that's now controlled by artificial intelligence.
Our protagonist is named Yasna. She's a celebrated scientist with limited memory of her past. However, what memories are available tell Yasna that she arrived at Regis III with an unnamed crew. But what has happened to them now? They aren't anywhere to be found. Fortunately, assistance is provided to our celebrated scientist with an incredible guide named Astrogator.
Astrogator and Yasna will work together to reveal the mysteries of Regis III. However, the process will be slow, as Starward Industries wants to mimic the feeling gained from Stanislaw Lem's novel. This means everyone should be interested in exploring astronomic science, as this action-adventure game leans heavily towards the knowledge of astronomy.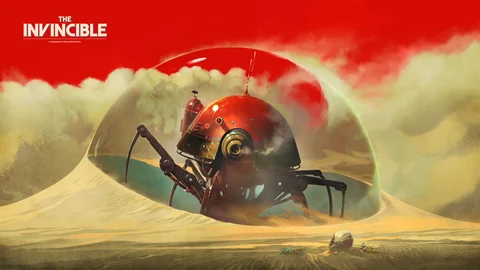 Everything in this action-adventure game is paced slowly, even when the antimatter cannon becomes reactivated. You can see that Yasna focuses on hiding rather than attacking. As such, we shouldn't expect a great deal of combat in The Invincible. As we previously mentioned, everything is about exploration and story in this upcoming game.
Interestingly, The Invincible appears perfect for virtual reality. Starward Industries would miss an incredible opportunity by avoiding a VR-Compatible version of The Invisible. Unfortunately, no announcement has been made to suggest that this space-exploration game is being made for VR.
Beyond the information we have told you, little is known about The Invincible. Starward Industries has remained quiet about its upcoming game as the independent studio looks to make the perfect recreation of Stanislaw's novel.

Is The Invincible Coming To Xbox Series X/S And PC?
Starward Industries announced that The Invincible would arrive in 2023 for the Xbox Series X/S and PC. This announcement came during the 2022 Summer Game Fest, revealing that the PS5 would be supported.
All next-generation consoles are being made available with this upcoming game. Unfortunately, we cannot tell you how much this game will cost. But we are confident that the pricing model will be lower than Battlefield or Overwatch.
Is The Invincible Part of The Xbox Game Pass?
Independent studios like Starward Industries are unlikely to launch their IPs onto the Xbox Game Pass. It would eliminate a significant margin of profit as The Invincible became free.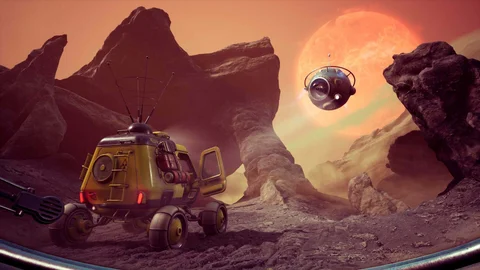 In our professional opinion, EarlyGame doesn't believe that The Invincible will launch onto Microsoft's Xbox Game Pass. That assumption could be incorrect and should be taken with a grain of salt.
Game Trailer
We haven't seen such a visually impressive trailer in months. Everything in The Invincible has been polished with the highest-textures possible, making the planet of Regis III seem realistic to the touch.

Everything is tangible and concrete, from the rock formations to robotic androids that roam the land. You'll feel like this world is more than real. It will appear in your dreams!
Game System Requirements
Below, you will find an assessment of PC System Requirements for The Invincible. These requirements have been acquired directly from Steam and are entirely reliable.

Minimum System Requirements
| | |
| --- | --- |
| Category | System Requirement |
| Operating System | Windows 10 & Windows 11 (64-Bit) |
| CPU | Intel i5-10400F / AMD Ryzen 5 3600 |
| RAM | 16GB |
| Storage Space | 25GB |
| Hi-Rez Assets Cache | TBC |
| GPU | Nvidia GTX 1060 / Radeon 5600 XT |
| Video Memory | DirectX - Version 11 |
| Graphics Driver | TBC |
Recommended System Requirements
| | |
| --- | --- |
| Category | System Requirement |
| Operating System | Windows 10 & Windows 11 (64-Bit) |
| CPU | Intel i5-10400F / AMD Ryzen 5 3600 |
| RAM | 32GB |
| Storage Space | 25GB |
| Hi-Rez Assets Cache | TBC |
| GPU | Nvidia GTX 2070 Super / Radeon 6700 XT |
| Video Memory | DirectX - Version 12 |
| Graphics Driver | TBC |