Leakers have found some itneresting information on Spotify, but can we trust these sources or is this fake?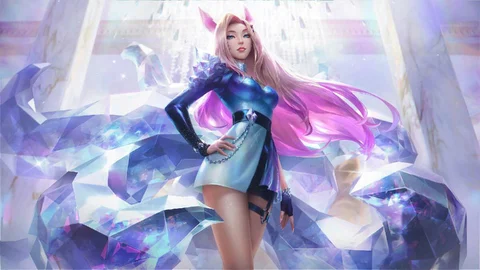 K/DA is Riot's most profitable and most popular music group to date. Sure, there is Pentakill who had a comeback in 2021 and even a huge interactive concert and True Damage made their debut in 2019 ahead of the 2019 World Championship, but neither have reached the heights of K/DA.
This has us thinking that Riot could be working on another K/DA comeback, two-years after their latest music release 'More'. So, what has been discovered online and can we even believe these rumors? Let's check it out.
K/DA Credit Found on Spotify
BigBadBear is a well-known League of Legends leaker. He mostly gives insights into upcoming champions, as well as information on new skins that will be featuring in League of Legends, as well as Wild Rift, but now he's found something else that could be interesting even to the ultra-casuals who don't even play League of Legends.
On Spotify, artist Nifser posted a song called 'hue'. In the description it is written that K/DA are artists on this song as well. Though that could just be a glitch in the Spotify system, so if you were excited to see Ahri and gang up on stage during the 2022 World Championship once more you might shed a tear or two because you likely just got baited in by a Spotify glitch.
Spotify Glitch Explained
So, what is this 'glitch' that even had prominent League of Legends leakers confused? Well, apparently, anyone can post a song on Spotify and feature any other random artist and tag them in the song, even if they have 0 credit to the music.
This glitch has been around for a while and thus means that while the song appears on the official K/DA Spotify, it does not mean that this 1 minute 30 second piece of music is the baseline for a new K/DA music video, even if our video editor would be over the moon if this comeback was a reality.
This Spotify glitch has been around for a while and it's crazy that Spotify has not fixed this yet, since anyone can be tagged in a song which could confuse fans of bigger artists as well. So, any K/DA stans out there you'll have to keep listening to the current K/DA lineup of songs, but if you're really thirsting for some more badass kpop-girl-group music, then you should get hyped for a Blackpink comeback in August 2022.