The MSI is one of the most hyped League of Legends tournaments each year. During the event, we get to see a huge variety of teams who deliver some action packed performances and emotional wins to their fan base. However, one of the recent matches exceeded all expectations when it comes to viewership records.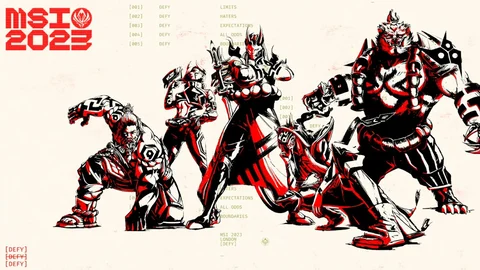 That T1 is known for setting up new records is no secret to any longtime LoL fan at this point. However, it's no longer enough for them to just set phenomenal records in all sorts of areas, they have to beat them on their own as well!
This time it's about the MSI match between T1 and JDG which took place recently on May 18. Both Asian teams gave it their best to eventually emerge victorious from this competition, but this time it was just not enough for T1 and JDG took the victory in an emotional Bo5.
T1 vs. JDG Match Breaks MSI Viewership Records
Nevertheless, the match between the two giants attracted an unprecedented number of viewers on various platforms. After just a short time, the MSI Viewership record of 2.19 million viewers from 2022 was therefore broken.
And guess who was involved last year as well? Yes, of course it's T1! In 2022, they competed in said MSI match against RNG, who did in fact beat the giant T1 as well, just like JDG did this year.
During the T1 vs. JDG match on May 18, 2023, the total viewer count climbed up to an incredible 2.2 million fans, who were watching the four-hour series in front of their screens.
2.2M Peak Viewers on @T1LoL vs @JDGaming , #MSI2023

Korean peak - 608K#LoL #MSI

— Esports Charts (@EsportsCharts) May 18, 2023
The audience peaked during the second game and reached about 750,000 simultaneous viewers. The total number of hours watched added up to almost 50 million hours!

Just a quick little reminder of how much that really is: A normal human life lasts for 624,000 hours on average. 80 people could watch nothing but this MSI game their entire life and that wouldn't be enough to reach this number!
Let's see how the upcoming matches will hold up in comparison to those numbers. Maybe T1 is already prepared to break this freshly set record again in just two days after their loss against JDG.

The MSI Knockout Stage will come to an end this Friday and will reveal the matches for the semifinals on May 20 & May 21.
We are absolutely stocked about the upcoming games, and after it is all set and done, we will keep you up-to-date on all the results and Highlights!
Since it's ADC season again, perhaps freshen up your champion pool a bit!
This article contains affiliate links which are marked with [shopping symbol]. These links can provide a small commission for us under certain conditions. This never affects the products price for you.