Champions Queue was introduced to the NA region in 2022 to foster a better place to practice without as many inters and griefers. Now, the concept has made it to the EMEA region as well for 2023.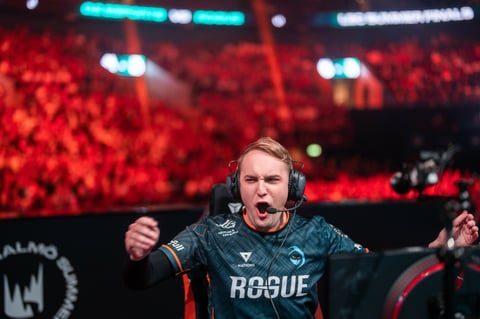 Riot introduced Champions Queue to NA, which was supposed to foster a better training and solo queue environment for players, since this server would be invite-only for those with the highest ranks in solo queue. It's also only available a few times a year.
During the 2022 League of Legends World Championship, players from other regions got to experience Champions Queue as wel. And there have been rumors surrounding a Chinese Champions Queue being worked on, but now Riot have introduced a Champions Queue EMEA ahead of the 2023 LEC season.
LoL: What Is Champions Queue?
For some of you, Champions Queue might be a completely foreign term. It was introduced last year to NA and will now also be implemented in the newly introduced EMEA region. It's an invite-only League of Legends system which brings together both professional and up-and-coming players in the most competitive environment possible. As they describe:
It provides automatic lobby creation as well as voice communication channels and match reporting. All eligible players will be invited to a private Discord server that will schedule, track and organize games between players.
Most of us can only dream of being in Champions Queue.
When Are The EMEA Champions Queue Splits?
Champions Queue is separated into various splits, with the first split kicking off on January 24, 2023. According to the official release from Riot these are the dates for all the Champions Queue splits:

Split 1 - January 24 - February 23
Split 2 - February 28 - March 31
MSI Split - TBD
Split 3 - May 30 - June 30
Split 4 - July 4 - August 11
Get the best gaming gear like the Logitech Mechanical Gaming Keyboard
Champions Queue will be unlocked four days a week from Tuesday to Friday between 10:00pm to 2:00am CET. Whether these matches can be co-streamed has not been revealed yet, but content creators have already asked Riot for the rights.
Do you agree with ShowMaker on the state of Mages right now?
Who Can Play in the EMEA Champions Queue?
Not just anyone will be able to sign up to Champions Queue EMEA. According to the information from Riot a EMEA CQ Player Council will be established, and they will be able to vote on who has access to the server. LEC and ERL players will likely be able to play and use Champions Queue as an extra way of practicing.
The key objective is to keep Champions Queue as high level and healthy as possible for everyone to get the most out of their games. It was also revealed that Champions Queue will be played on the same patch cycle as the LEC to keep things as fair as possible for players.
LEC Caster and former pro player Caedrel stated on Twitter that he had been one of the people pushing for an EMEA Champions Queue all of last year. So hopefully players utilize it, unlike what is happening in NA.
This article first appeared on riftfeed.gg
This article contains affiliate links which are marked with [shopping symbol]. These links can provide a small commission for us under certain conditions. This never affects the products price for you.