Riot is constantly updating League of Legends. In two weeks we will get a new patch, and there are some big changes ahead for players. What does Riot have planned for LoL Patch 13.2?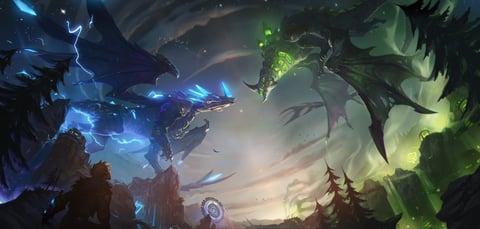 Lead Designer for the League Balance Team, Matt "Phroxzon" Leung-Harrison has outlined a few changes the team is looking to introduce in the upcoming League of Legends Patch 13.2. No details have been given yet, but we have quite a few things to look forward to other than the Ahri ASU.
With fans having complained about the state of Grievous Wounds, as well as fighter sustain in general, this will be a hot topic in the upcoming patch, but a few more changes will be hitting the rift according to Phroxzon.
Everything Riot is Planning on Changing in LoL Patch 13.2
These aren't official patch notes, but we do have an outline for the upcoming patch, and a few of these changes have already shipped onto the PBE server. One of the big changes is to make the newest drake, the Chemtech Drake, feel a little stronger, so she is getting a slight buff.
But of course, that's not the most important thing Riot is focusing on. For months now, the community has been discussing the state of Grievous Wounds and how the system doesn't seem to work properly, especially with the component item applying less than the full one.
For 13.2, we've been looking at:
- GW changes (40% on small component)
- Small scope ADC satisfaction changes (situational durability)
- Fighter haste & sustain
- Multiple tenacity sources stack properly
- small Chemtech soul + base buff
- Normal balance changes

— Matt Leung-Harrison (@RiotPhroxzon) January 11, 2023
This has made many LoL players feel like buying Grievous Wounds is completely useless. Some items also don't work well with specific champions due to the Grievous Wounds passive and therefore some champions can't even build GW-items.
Riot Phroxzon stated on Twitter that they would take a look at adding 40% GW application back to component items, but is that going to fix the problem?
A small-scope ADC update on situational durability is also going to be added. Ever since the preseason kicked off, a lot of ADC mains have felt left out of the loop with tanks and fighters in the top lane becoming giga broken, while ADCs try their hardest to auto-attack them to death, but nothing happens...
Therefore, Riot is going to look at ADC satisfaction and what they can do to make the role more fun to play, while also keeping every role on Summoner's Rift balanced and worth picking up.
Riot is also going to be pushing for some updates to fighters and their sustain, something a lot of players have been complaining about as well. Many fighters are extremely tanky with no way to burst them down due to their immense innate sustain.
These are some issues that the community has been lamenting about for a while, so it's nice to know that they're being looked at this early in the season. How exactly the issues will get fixed, or attempted to get fixed, has not been revealed yet though.
This article contains affiliate links which are marked with [shopping symbol]. These links can provide a small commission for us under certain conditions. This never affects the products price for you.