The League of Legends Mythic Shop works on a monthly rotation for Prestige skins and 3-month rotation for Gemstone skins. So, with the first year of the Mythic Shop coming to a close we're going to check out which skins you could get in 2023.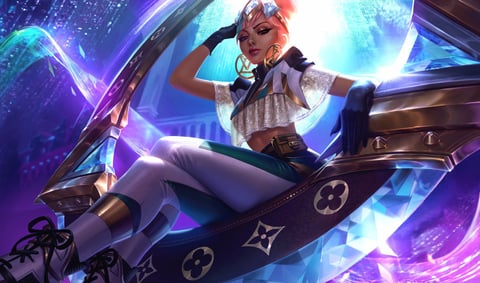 In 2022 Riot has released the new myhtic shop. In it players are able to purchase the newest Prestige skins, but old skins will also be unvaulted for players to pick up with mythic essence when they see one they like.
But with the year coming to an end, some of the most popular Prestige skins didn't make it into the shop in 2022 which has us wondering which skins can we see in the mythic shop in 2023? Is your favorite prestige skin finally going to be made available in the upcoming year?
League of Legends Mythic Shop 2023 | What Skins Could Be Unvaulted?
Prestige skins that are over a year old can be added into the Myhtic Shop, so if you're looking to pick up the Prestige Winterblessed Warwick in 2023, then you'll be out of luck and will likely have to wait for 2024 for the skin to be added to the mythic shop for rotation.
So let's quickly check out which skins could be unvaulted for which price. It is important to note that skins released in 2018 are priced higher due to their rarity (200 ME). Skins released in 2019 will go for 150 ME. Prestige skins from 2020 and 2021 will cost 125 ME.
Skins Unvaulted for 200 ME
The only skin that could be unvaulted for 200 Mythic Essence would be K/DA Akali. Due to Akali having her prestige skin released in 2018 it is priced at this range. Therefore, she is the only one at this price range.
But like... when will we be able to get the K'Sante prestige skin again?
Skins Unvaulted for 150 ME
This list is a bit more extensive and features more characters than for 200 Mythic Essence. These are the Prestige skins which were released in 2019. Since it is their first time getting unvaulted these skins would cost 150 ME.
K/DA Ahri
Fuzz Fizz
Nightbringer Lee Sin
True Damage Qiyana
Valiant Sword Riven
Firecracker Vayne
Skins Unvaulted for 125 ME
This is the 'cheapest' prestige skin tier for unvaulted skin. Skins which get unvaulted for the first time will land here, as well as those from 2020 and later. So let's check out which champions you could own come 2023.
Mecha Kingdoms Garen
K/DA All Out Kai'Sa
True Damage Senna
Obsidian Dragon Sett
Star Guardian Soraka
True Damage Yasuo
Coven Zyra
Lunar Beast Fiora
Space Groove Lulu
Ascended Pantheon
Nightbringer Kayn
Duality Dragon Volibear
Debonair Brand
These skins could make an appearance in 2023, but Riot can also unvault skins that have previously been part of the mythic shop rotation before as well if they feel like bringing some other old skins back throughout 2023.
Second Unvaulting Skin Prices
Skins getting unvaulted for a second time will have their price increased. So, this means if a skin originally went for 125 ME in the shop, then the second time they're unvaulted they will cost you 150 ME and on the third unvault they'll be 200 ME.
This was announced back when Riot revealed their plans for the mythic content overhaul. So, if you want to get an older prestige skin for the best possible price, then you have to try and get enough Mythic Essence right away so you can purchase the prestige skin of your dream.
This article contains affiliate links which are marked with [shopping symbol]. These links can provide a small commission for us under certain conditions. This never affects the products price for you.