The League of Legends World Championship is crazy with some insane picks. EU had an insanely good start, but it seems like the one week break destroyed their momentum and almost cost EU... everything.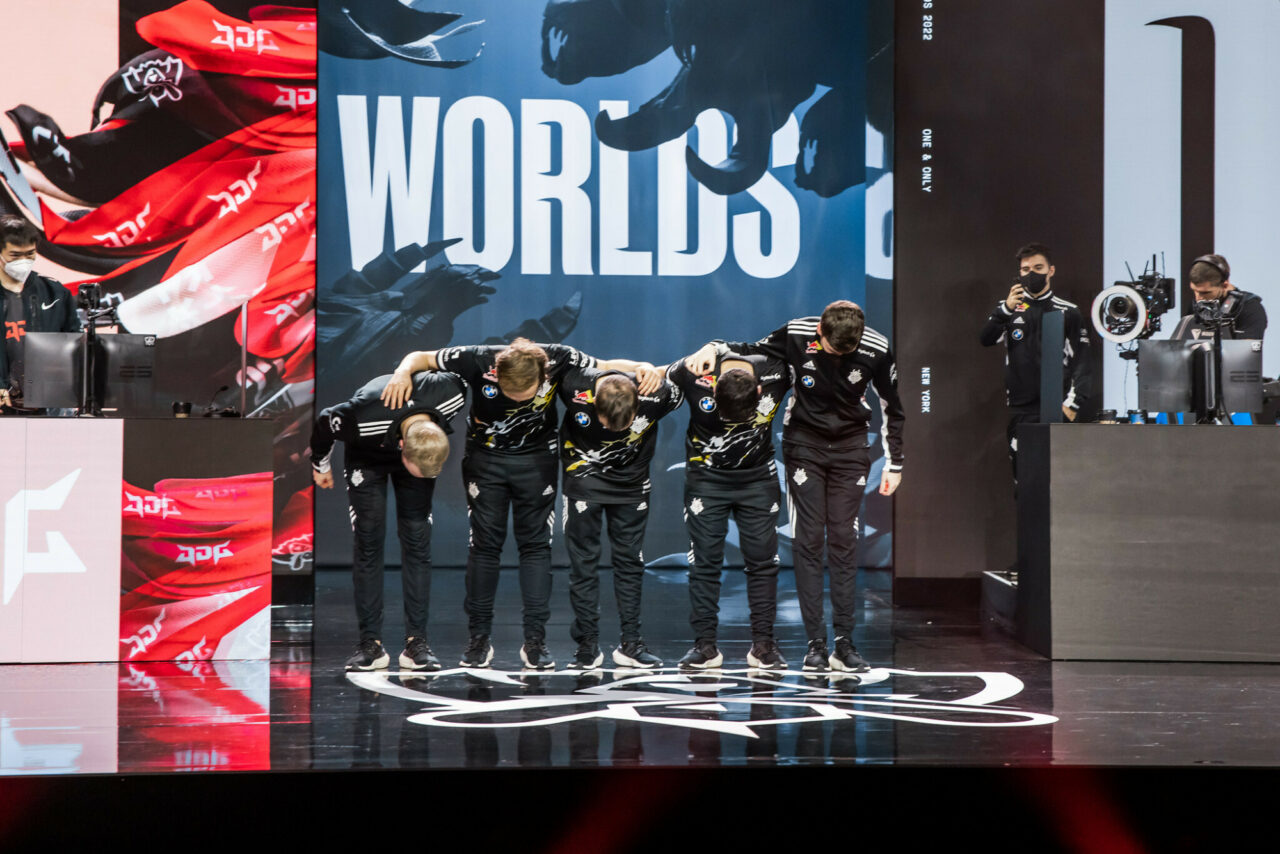 At the end of week 1 at the LoL Worlds 2022 everything seemed fine and dandy for the EU squads. G2 Esports recorded a 1-2 record and Fnatic went 2-1 while Rogue completely dominated their group going 3-0. Nothing could go wrong... right?
Well, it seems like there were some other teams at the biggest esports event had different ideas. While it was nearly impossible for any NA teams to make it out of groups – again – it seems like the LCS squads had a plan, which was to ruin EUs chances of making the knockout rounds as well.
LoL Worlds 2022: LEC Teams Go 1-9 In Second Week of Groups
After the group stage finished Host and interviewer Eefje "Sjokz" Depoortere posted a TikTok explaining the EU situation perfectly. "EU Fans walking into quarterfinals after GAM dragged RGEs corpse over the finish line.".
What makes it worse is that it wasn't just that EU was playing bad. It was the fact that the North American teams were the ones to embarrass the region. It all started off when Group A faced off and Cloud9 decimated Fnatic in the first game of the second group stage round.
It seemed like NA was on a mission, stating that if they weren't making the knockout phase, then neither were their European rivals. Sure, every NA team only won a single game, but two of those combined 3 NA wins came against EU teams.
LoL Worlds Group Stage: Vietnam Rescues Europe
In Group C no North American team was to be found, which is probably the reason why Rogue made it out of the group. But all jokes aside. GAM Esports, the Vietnamese first place team getting an invaluable win against Top Esports is probably what secured Rogue their spot in the quarter-finals.
Rogue could have had it way easier with their 3-0 head start, but with questionable picks like Nasus support, as well as odd calls for fights against TES. Thankfully GAM had EUs back and managed a win over TES.
Rogue was also the only EU team to rake in a win in the second half of the group stage, which came in their first game of the day against GAM Esports. Rogue finished in second place in their group with a record of 4 - 3, while Fnatic came in third with two wins and four losses. G2 Esports tied Evil Geniuses and finished with a 1-5 record.
Rogue is going to face JD Gaming in the quarterfinals. If they manage to win against the LPL's first seed they'll move on to face either T1 or RNG in the semi-finals.