Rocket League once again celebrates Black History Month. This time around, the game features the work of some very talented Black artists. These new items are part of bundles you can pick up for free from the in-game shop.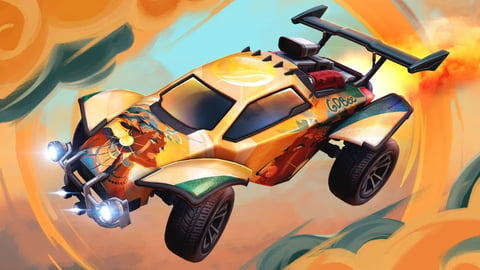 February 1st marks the start of Black History Month, and we're once again celebrating it in Rocket League. It's a returning event in which black artists are promoted and featured in the game itself. The Rocket League community can look forward to awesome and unique bundles you can get for free from the in-game item shop.

Black History Month In Rocket League
From February 01 to February 28, the Rocket League Item Shop will display a "Black History Month" tab, which you can check out anytime in order to grab the different bundles for free.
A total of three item-packs will be released throughout the month and Psyonix will announce each of them on their social media platforms. Of course, we're going to update this article as soon as there's more news about the next artist.

February is Black History Month and we are rolling out 3 FREE Bundles in the Item Shop throughout the month that celebrate the work of talented Black artists.

Today we debut the "Sunniya by Geneva Bowers" Bundle.

Learn more about Geneva Bowers here: https://t.co/wByPkuWOLv pic.twitter.com/CgX4BQQf1W

— Rocket League (@RocketLeague) February 1, 2023
"Parallel by Taj Francis" Bundle
We're halfway through Black History Month, and it's all about Jamaica in Rocket League this time. Artist Taj Francis has created some pretty dope items for the game, which are featured right now. As it is the case for this year's event, you can check out the item shop and get your bundle for free. This is what's in it:

Parallel Decal
Parallel Avatar Border
Parallel Player Banner

ICYMI: You can also check out last week's bundle and grab it from the item shop:

Geneva Bowers Sunniya Bundle
To start things off, Psyonix is working together with illustrator Geneva Bowers – you can check out her official website genevab.com for more of her artworks. Personally, I really like her style and I do believe it fits the vibrant colors of Rocket League pretty well. Speaking of which, here are the items you can pick up from the store right now:

Sunniya Decal
Sunniya Avatar Border
Sunniya Player Banner

All three items looks incredible and display a wide variety of colors –however, the Octane decal is by far my favorite as it's one of the best looking cars in Rocket League. Personal taste, of course.
If you want to learn more about Geneva Bowers or her art, you should either check out her website we linked above, or read through the short interview Psyonix published on their page. While Rocket League might not be her favorite type of game, she's still one of us with roguelikes being her favorite genre.
So, what are you waiting for? Pick up your items, get them on your favorite vehicle and celebrate the Black History Month in Rocket League with your friends!