ApparentlyJack is EarlyGame's December Rocket League Player of the Month. But why? Well, read on to find out. Small hint: It has something to do with his outstanding skills in Rocket League.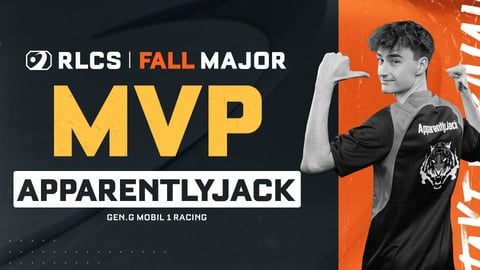 Well, well, well... what a Rocket League month we have behind us. On the one hand, with the Fall Major 2022 the first big tournament of the current RLCS season took place. On the other hand, we got a brand-new Rocket League season to play with, which launched at the beginning of December.

When it comes to our Rocket League Player of the Month pick, there is rarely a way around great achievements in the esports scene. Once again, we picked a player that has shown his skills on the biggest RL stage out there. Here he is... our official Player of the Month in December: ApparentlyJack!

Who is ApparentlyJack?
Jack "ApparentlyJack" Benton is a Rocket League Pro from England, currently signed to Gen.G Mobil1 Racing. With a staggering $155,091 in earnings, he's already achieved quite a lot in his career – this year alone, he earned himself a decent amount of price money by just playing well.
With his crazy goals, clever plays, and steadfast consistency, he has already taken many organizations to the next level – Rix.GG, Dignitas or even Stormtroopers.

In the end, he joined Gen.G a while ago – which turned out to be a solid move as he's the current RLCS Fall Major champion alongside his two mates noly and Chronic.
What Are ApparentlyJack's Camera Settings?
| | |
| --- | --- |
| Camera Settings | ApparentlyJack's Camera Settings |
| Camera Shake | Off |
| FOV | 110 |
| Height | 100 |
| Angle | -5.0 |
| Distance | 270 |
| Stiffness | 0.40 |
| Swivel Speed | 1.80 |
| Transition Speed | 1.80 |
| Ball Camera | Toggle |
What Are ApparentlyJack's Controller Settings?
| | |
| --- | --- |
| Moves | ApparentlyJack's Control Settings (PS) |
| Powerslide | L1 |
| Luftrolle (Left/Right) | L1 (Square/Circle) |
| Boost | R1 |
| Jump | X |
| Ball Camera | Triangle |
| Break | L2 |
| Gas | R2 |
Why is ApparentlyJack our Player of the Month?

ApparentlyJack is simply a damn good and, above all, consistent Rocket League player who has been an integral part of Gen.G's road to victory. He's one of the best RL pros currently and has been voted Fall Major MVP as well – do we really need to go on?

YOUR 2022-23 #RLCS FALL MAJOR MVP: @ApparentlyJxck pic.twitter.com/zFoaREKePn

— Rocket League Esports (@RLEsports) December 11, 2022
Do you think our choice is justified, or would you have seen another Rocket League player come out on top? Well, here at EarlyGame you won't automatically become a pro, but we're always happy to help you, be it with Battle Cars, the confusing ranking system in Rocket League or just the brand-new Rocket Pass coming with each season. What more could you want?