Ahead of the grand finals of the RLCS Fall Major, it was announced that the Titanium White Octane will be available in the Rocket League Item Shop for a limited time. We are hyped, the community is hyped... everybody is hyped about this sweet-looking vehicle – what are you waiting for? Get your dirty little hands on it!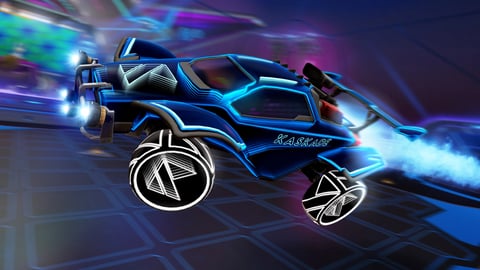 It was probably the most amazing announcement we got during the 2022-23 RLCS Fall Major: The Titanium White Octane will be available in the Rocket League Item Shop for a limited time only!
We'll show you when the car body with its special Paint Finish is going to appear in the shop and how much you have to pay for it. We also want to briefly explain why the community is so hyped about it. Here's the story about the TW Octane!

Titanium White Octane Coming To Rocket League Item Shop
There will be a white Christmas this year – even without any snow. As announced during the RLCS Fall Major Livestream, the Titanium White Octane returns to the RL Item Shop from December 24 to 31.
Keep your wallet by your side during this time period and fill up your account with RL credits, because you won't get the chance to buy this awesome item combination too often. By the way, you won't have to spend too much money on it, as its price has been kept at 800 RL Credits.
Let's be honest for a sec, Psyonix could have easily increased the price tag to 2.000 credits due to its high demand. Pretty decent gift to close out 2022.

Easiest purchase of my life from RocketLeague
One Of The Rarest & Most Expensive Items
The reason for the Octane in Titanium White hyping up the community is actually pretty easy to explain. On the one hand, it's the most popular car in Rocket League, which looks at least 10x better in white. On the other hand, this color-car combination is extremely rare and difficult to get hold of.

A few different ways to acquire the TW Octane for your garage are:
Trade in other items to get a drop of equal/higher rarity
Use RL Credits or your own money on other websites
Find another player and trade with him
However, these procedures are either kinda fishy or just completely unlikely to be successful, which is why being able to buy everything in the Item Shop with ease is a nice Christmas gift. For example, the chance of getting a Titanium White Octane when trading items is less than 1%.
Due to its rarity, the Titanium White Octane is (was) one of the most expensive items in Rocket League. At its peak, it cost over 20,000 RL credits, which is insane. The price has been relatively stable around 10K lately, but since the announcement at the RLCS event it has collapsed below 4K. RIP, traders!