During a recent livestream, ExtraEmily had to "spank a stranger's butt" and did so with zero hesitation.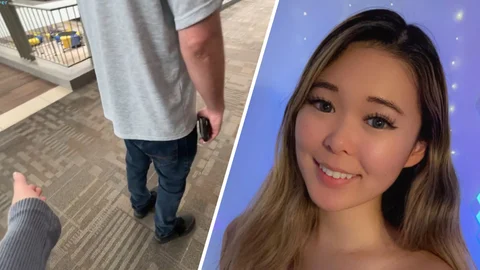 During a recent IRL livestream on Twitch, Emily "ExtraEmily" Zhang was having a fun time, but then the randomizer she was using told her to "spank a stranger's butt". A randomizer just tells you to do random things to keep live streams interesting.
ExtraEmily Turns A Simple IRL Stream Into A Highlight-Reel
ExtraEmily is one of the rising stars on Twitch. She started gaining followers in 2022, but really popped off as of this year. While she started out playing Super Mario 64 speedruns she has become a Just Chatting streamer, which played into her witty humor and funny interactions with fellow streamers.
She got further attention by joining the streamer org. OTK and has been featured in huge streams, like xQc's Love or Host, where she was the main entertainment factor.
It seems like Emily realized the potential in having funny interactions with other streamers, as she is doing cool collaboration streams more frequently now.
Just recently, she was doing an IRL stream with fellow up-and-coming streamer Squeex, which led to a lot of highlight clips from that alone.

To keep things entertaining even when nothing special was happening, Emily included a randomizer that would sometimes spin and provide her with goofy tasks, like telling strangers a pickup line, or howling in public. Just a couple of harmless, cringe tasks to make viewers laugh.
One of the tasks was a little bit more spicy, though, as it required Emily to "spank a stranger's butt". And wouldn't you know, that exact task came up when the two of them were roaming a mall.
Squeex quickly bowed out, but Emily just went to work with a smile, quickly walking up to two guys. She nicely asked the two off them whether she could quickly spank on of their butts, and one of them actually agreed.

To be fair, it probably helped that it was a cute girl that asked. They probably wouldn't have agreed if it was Squeex that walked up to them.
Anyway, there is a reason ExtraEmily has grown as fast as she has. There aren't many people that can turn a simple IRL stream into a highlight-reel the way she does it.
We're looking forward to the next adventures of Emily & Squeex.
This article contains affiliate links which are marked with [shopping symbol]. These links can provide a small commission for us under certain conditions. This never affects the products price for you.