After a heated debate, Hasan realized that one of Trainwreck's arguments actually applies more to xQc's editor.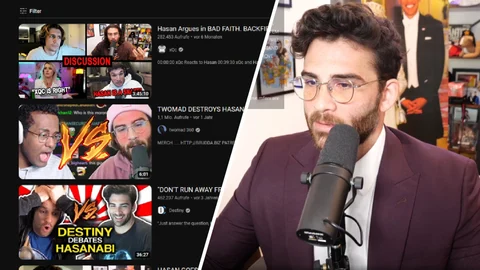 After popular Twitch streamer Hasan "HasanAbi" Piker and Kick co-founder Tyler "Trainwreckstv" Niknam talked things out, Hasan realized that Train was being quite hypocritical while calling out Hasan for not checking his editor Ostonox. Turns out xQc's YouTube editor was doing the same thing Train complained about to Hasan.
Hasan Shows Trainwreck's Hypocrisy For Calling Out His Editor

On March 20, the two of them were having a turbulent discussion, talking about their differences, when Train complained about Hasan's head editor, Ostonox, "attacking other streamers and derailing their programs".
Just heard Train got on a 5-hour customer service call to the manager to complain that I'm not nice enough to him on twitter

He could always unblock me and DM to explain where exactly I misrepresented him funding a mental healthcare fund while promoting a gambling addiction pic.twitter.com/xzUi4pxnBy

— ostonox (@ostonox) March 21, 2023
He is referring to Ostonox, apparently claiming that he set up a charity to whitewash his reputation, after people started criticizing him for his gambling streams.
Train says that Hasan should be checking his "employees" for stepping out of line like that, misrepresenting other content creators, and it looks like xQc agrees.

One thing he didn't consider, though, was that xQc's head editor for his YouTube channel was way more aggressive in his approach against Hasan. The editor in question, Artium, was going so far as to claim that the political commentator was arguing in "BAD FAITH" during an SA debate between the three.

With this clip gaining traction on the LivestreamFail Sub-Reddit, xQc became aware of his editors' behavior, because in the comments multiple users were calling out Artium for his hateful comments.
When he stumbled upon a post on Artium's alt Twitter account, telling Hasan to "jump off a building" it seems he realized how out of line his editor was sometimes.
We don't know whether this is going to have any consequences as to the employment of Artium as xQC main editor on YouTube, but I guess xQc realized that it was not Hasan's editor that was out of line.
If there is anything you need to know about Train's actual thoughts on regulation, just know that his posterchild for Kick was streaming porn during his first day on the platform:
This article contains affiliate links which are marked with [shopping symbol]. These links can provide a small commission for us under certain conditions. This never affects the products price for you.