Twitch streamer Hasan has set up a donation link for Türkiye and Syria, collecting hundreds of thousands of Dollars after a devastating earthquake.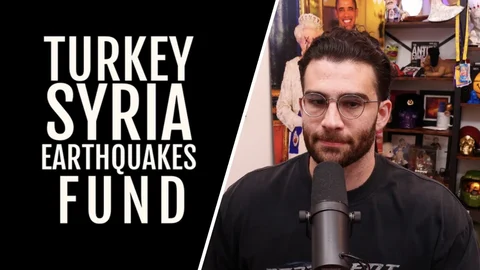 Popular Twitch streamer Hasan "HasanAbi" Piker was quick in his response to the devastating earthquake in Türkiye and Syria, setting up a donation link and quickly crashing the website by collecting more than $500K in less than 7 hours.
HasanAbi is one of the biggest streamers on Twitch and made himself known for being a political commentator on Twitch.

Twitch Streamer Hasan Raises $500,000 In Just 4 Hours

With this horrendous situation happening in Türkiye and Syria right now, with hundreds of thousands of people suffering from the consequences of this earthquake, Hasan decided to use his influence and raise funds for the victims.
Just 20 minutes after setting up the link, the fundraising site crashed due to the massive amount of donations that were pouring in, showing just how big of an impact influencers can make.
In just 4 hours, Hasan and his community were able to raise more than $500K, and they are still going strong.
Haters Actively Undermine Hasan's Efforts To Raise Money For Earthquake Victims
Sadly, there seem to be an awful lot of people that actively sabotage Hasan's fundraising efforts, simply out of spite for the popular political commentator.
One example of this happened, when YouTube streamer IShowSpeed was thinking about donating through the donation link set up by Hasan.
Some individuals stopped him from donating, saying that it was a scam and that Hasan simply wants to fill his own pockets.

while i have some insane haters who actively try to undermine fundraising efforts, i also have an incredible community which raised $546,024 in 7 hours. my thoughts are with the victims in turkey and syria. https://t.co/ZTIA1A00c0

— hasanabi (@hasanthehun) February 7, 2023
This led to $50,000 not being donated for the victims in Türkiye and Syria, money that is desperately needed to help the people who lost their homes and, even worse, are still trapped under the rubble.
If you don't want to donate, nobody can and will force you to do so, but at least don't sabotage a fundraiser that can actually help the victims of this catastrophe.