The best Midfielders in FIFA 23 are essential for your Ultimate Team. They are the link between defense and attack. We show you the strongest all-rounders, sweepers and dribblers in the game. From ZDM to ZM to ZOM: there is a suitable player for every position you need!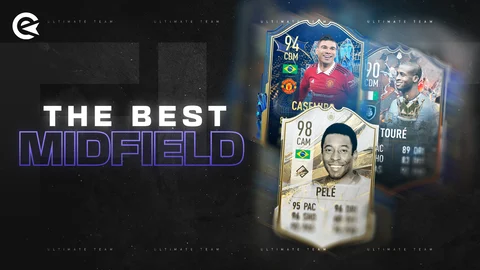 Where would our midfield in FIFA 23 be without Yaya Touré, David Beckham or Pelé. What? You have no idea what we're talking about? Then we should hurry to check out the best midfielders in FIFA 23. It doesn't matter whether it's a backbone for your Central Defensive Midfield (CDM), an engine in Central Midfield (CM) or an artist in Central Attacking Midfield (CAM), we have something for every need.
Don't forget that you can change the position of most players! The right Tactics and Instructions can also be crucial for your FUTS squad to get one or the other win in the Weekend League! Nevertheless, it is of course worth having the best players on the team. Here you are.
The Best CDMs In FIFA 23 Ultimate Team
Let's look at the three best sweepers for your team. They have to have one thing above all… defensive skills, because these guys do the dirty work for our creative players.
Our selection is the best, but definitely not the cheapest. So take a look at our TOTS Guide to accumulate as many packs and coins as possible.
1. Patrick Vieira – Trophy Titan Icon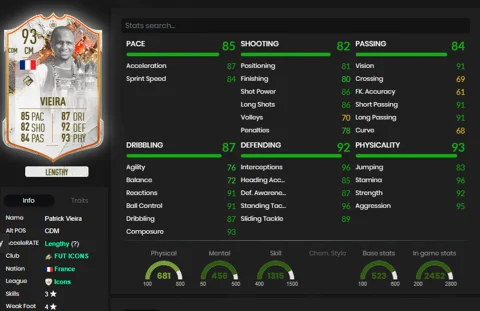 There's not much to say about Patrick Vieira, is there? Vieira's aura alone is enough to stabilize a defense. His Trophy Titan Icon is a new milestone among CDMs. Vieira's player model is incredibly tall and wide. With his long legs, he really gets every ball. "Captain Elastic" would be proud.
Almost four million coins is a hefty but justified price for his Trophy Titan Icon card. You can get his Base Icon for less than 300k coins, so no wonder Baby Vieira made it into our list of the Cheapest And Best OP Icons In FUT.
2. Casemiro – TOTS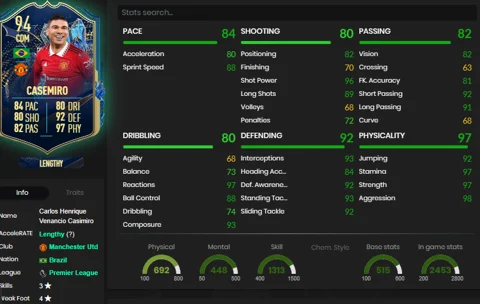 Casemiro always seems to go a little under the radar with referees. Whether it's hitting the ball or hitting an opponent, the Brazilian always keeps a smile on his face and somehow never gets a yellow card.
Unlike with the referees, Casemiro is on our radar. If you look up "sweeper" in the dictionary, you'll most likely find a picture of him. The Premier League TOTS card is an absolute one-on-one beast. It almost always gets his body between the ball and the opponent. With its stamina, Casemiro TOTS card manages to get on your opponent's nerves for 90 minutes.
If you want one of the best CDMs for less than 100k, treat yourself to TOTS Casemiro. However, he has weaknesses in passing – you can compensate for that with Catalyst.
3. Lothar Matthäus – FUT Birthday Icon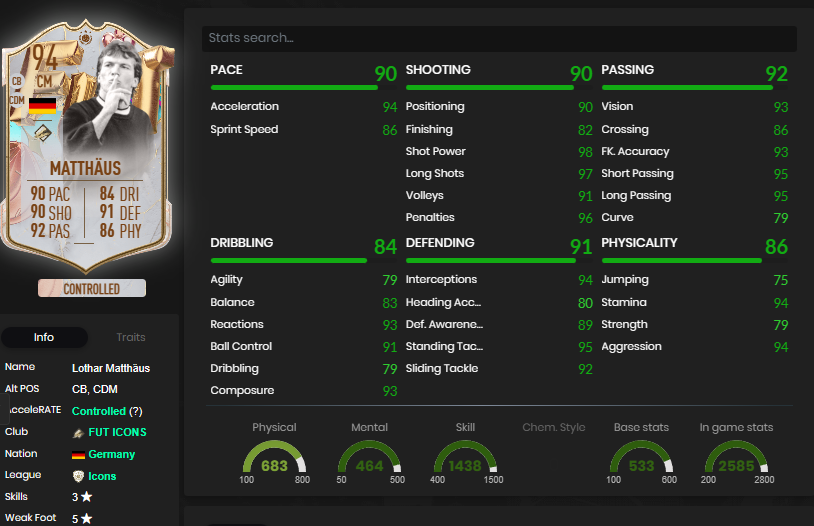 One of the most expensive CDM cards in the game, but also one of the best! Lothar Matthäus' biggest trump card besides his outstanding stats is his flexibility.
In midfield, his FUT Birthday Icon can also take on a more offensive role, as it brings with it decent shot and pass stats. But he can also move to the defensive line and take on the role of Center Back. Matthäus is therefore incredibly valuable for team building or any tactical adjustments in game.
These are the three best CDMs for us. The TOTS Swaps Season Pass has another star up its sleeve in Brighton & Hove Albion's Caicedo. Here's how to get Caicedo and other rewards faster:
The Best CMs In FIFA 23 Ultimate Team
We're getting a little more attacking now. Our list continues with the CM position! However, most FUT cards can be changed between CDM and CM and even CAM.
1. Ruud Gullit – TOTY Icon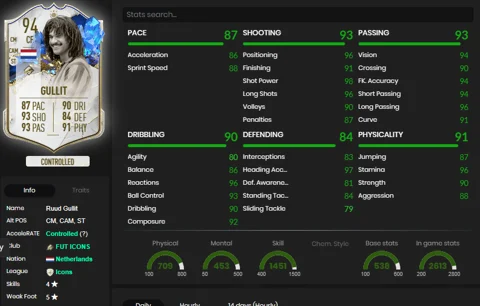 Every FIFA player dreams, especially of one Icon every year: Ruud Gullit. But for most of them, these dreams burst every year like bubbles.
Gullit is an asset to any team due to his all-round qualities and variable positions. EA Sports had to overdo it this year. With the TOTY Icon card of Gullit, an even greater longing was aroused in the FIFA community. The TOTY Icon version is extinct at 15 million coins. His Mid and Prime Icons are also worth millions. Dreams are but shadows, after all.
2. David Beckham – TOTY Icon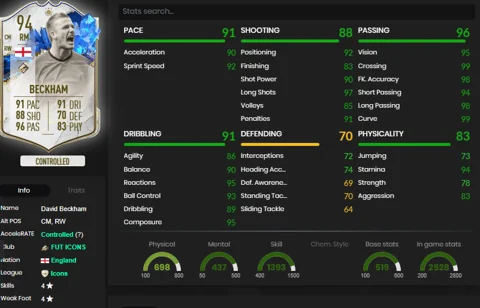 While TOTY Icon David Beckham is actually a Right Midfielder, he can also play in the CM position. Anyone who wastes such a strategist and fighter on the wing has only himself to blame.
If you saw Beckham in his prime, you know what this man can do with his right foot. The TOTY Icon card can do this almost as well. Give Beckham TOTY Icon the ball, and he'll bringit to his teammate, no matter if it's over six or 60 meters.
3. Yaya Touré – Trophy Titan Hero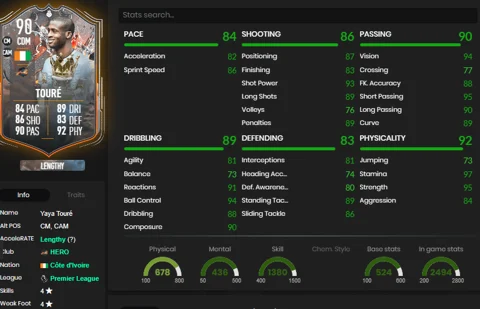 Yaya, Yaya, Yaya... Yaya Touré. It could have sounded something like that when FIFA players drew the Trophy Titan Hero from Yaya Touré. Yaya Touré has been a must-have for every midfield since the beginning of FIFA 23. First it was the normal Hero card, then the OP WC Hero version. The Ivorian's various FUT cards combine assertiveness, finishing power and passing accuracy like no other card.

Failed in WL? It can't have been because of these players, but because of the almost broken controller: Buy a new PS5 Controller on Amazon
As with the CDMs, we have made a personal selection. Candidates like TOTY Luka Modrić or TOTY Jude Bellingham definitely deserve it. However, Bellingham is still not that easy to link at the moment. The BuLi TOTS makes this easier.
The Best CAMs In FIFA 23 Ultimate Team
We're already behind the strikers. Finally, let's look at the best CAMs.
A Karim Benzema, for example, is in the list of the Best Strikers In FUT but could also be used as a key player behind the Strikers.
1. Pelé – Prime Icon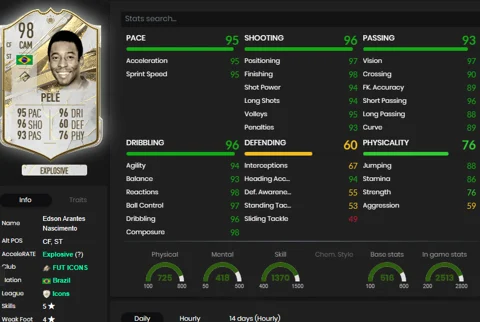 Anyone who doesn't know and appreciate Pelé has never loved football. Pelé could easily be one of our Best Wingers In FUT. But since he is the King of Football, he also belongs to the King Position. As CAM, Prime Icon Pelé can reach its full potential.
He can pick up the ball in midfield, play a pass to his teammates in promising positions, or simply dribble through the opposing defense himself. In addition to his gifted passing and dribbling skills, Pelé has excellent shooting stats that means he is always able to score from any position.
2. Zinédine Zidane – Trophy Titan Icon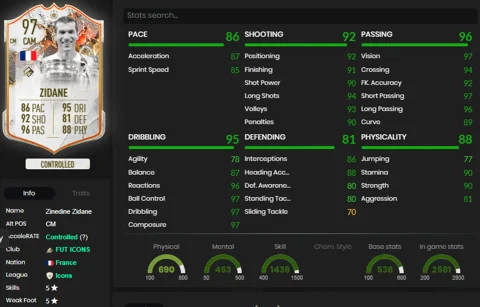 Have you ever watched a compilation of Zinedine Zidane's best goals and skills? Then you also know what to expect from the Trophy Titan Icon "Zizou". The Frenchman walks through the midfield like it's nothing. With five stars skills and five stars weak foot, you will find a solution for every situation.
Despite fine movements, Zidane also has a stable player model and is not above fighting to win the ball. All in all, Zidane is the perfect midfielder and can play in any central position.
3. Kevin de Bruyne – TOTS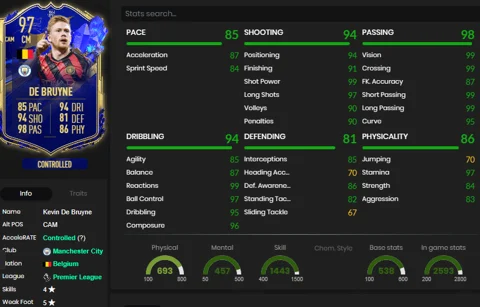 Kevin de Bruyne delivers incredible moments every year. Unfortunately, it has not yet worked out with an award for Ballon d'Or, but he at least got a TOTY card as well as a Premier League TOTS card. It reflects exactly what de Bruyne can do: everything!
You can defend against TOTS de Bruyne with 100 men, he almost always finds a gap. If this gap does not open up, then de Bruyne shoots his way through the opposing defense with 99 shot power and 97 long-range shots. The same applies to de Bruyne as to Zidane: Despite all his strengths in attacking play, he always tries to work defensively. That's why the Belgian got a deserved place among the best Central Attacking Midfielders.


We hope that one or the other useful player was there for you. Always keep an eye out for new Midfielders during TOTS.
For example, the Eredivisie TOTS and EFL TOTS also have strong Midfielders

This article contains affiliate links which are marked with [shopping symbol]. These links can provide a small commission for us under certain conditions. This never affects the products price for you.