EA SPORTS will probably rename the FIFA series. Like, for real. The publisher secured the name EA Sports FC as a trademark. After the FIFA and EA boss Andrew Wilson have spoken, it is now clear that EA Sports FC will replace our FIFA.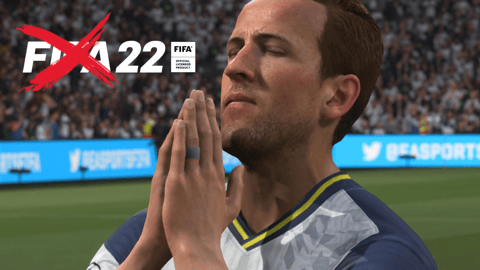 Since the release of FIFA 22, over 9 million have dived into the depths of the football simulation. A total of 7.5 million even tried their luck in the Ultimate Team mode. Even though 35 percent fewer discs were sold this year, FIFA 22 has overtaken its predecessor in terms of sales figures. These numbers have been around for FIFA 22 since the end of October – and yet, everything will change.
Because publisher EA Sports has concrete plans without FIFA. A revolution is coming: EA wants to rename FIFA!
Read the whole story and latest news right here.

In a press release from EA in October, Cam Weber, Executive Vice President of EA Sports, stated that the publisher is reviewing the naming rights contracts with the international football association (FIFA) and is considering a possible name change.

The reasons are quite clear: EA pays FIFA a huge sum every year to be able to use the name. On the other hand, the game series needs a fresh look – similar to what its competitor Konami did with PES and eFootball.
New Name For FIFA Series: EA Sports FC Should Ce Confirmed

Every year, EA pays around a 100 million US dollars to the non-profit organization FIFA (lol) for its naming rights. Sure, EA earns over 1.5 billion euros every bloody year with Ultimate Team alone. Nevertheless, the naming rights and the associated high costs could be a reason for the publisher to rethink. Should the contract have to be renegotiated, its price could also rise. The football simulation continues to grow and convinces millions of people every year to spend money for FUT (I really don't know why).
To avoid higher costs, EA could take the cheaper way like Konami did, and rename its successful football simulation. The Japanese publisher has decided to rename its Pro Evolution Soccer (PES) to eFootball and give it a new face. In retrospect, it didn't work out that well, because if a game is shitty, even a new name doesn't help much.
Anyway, this is exactly what's happening with EA, the FIFA series and the world football federation FIFA. We have already reported that FIFA 23 will be the last FIFA. And according to arstechnica, EA insiders have confirmed the name "EA Sports Football Club".
New Brand: EA Sports FC Will Replace FIFA
Although the sales figures are insane and EA swims in money thanks to sick profits from FIFA Ultimate Team, the contract with FIFA, which expires in 2022, will not be extended. The contract was last negotiated in 2013; it will end after December 31, 2022. After more than 30 years of "FIFA" on our shelves and consoles, we have to get used to a new name.
The plans for this became concrete, because on the weekend of October 9/10, there was the official confirmation that EA has secured the name EA SPORTS FC as a brand. We don't want to say anything too spectacular, but: The name change will get real.
No, seriously: It all sounds very logical – but it can of course also be a negotiating tactic from EA. If they have serious plans to rename the series, then FIFA has a worse negotiating position and may ask less for naming rights. Doesn't look like it at the moment though..
FIFA Wants Billions – New License Agreement Unrealistic For EA Sports
As the New York Times reported, FIFA is said to have increased its demands significantly. While the last contract ran for 10 years (approx. 1 billion USD), the football association now wants to demand more than double. According to some sources, EA Sports is asked to pay 1 billion USD every four years from now on. From FIFA's perspective, you can understand the demands. After all, EA is becoming richer and richer with its franchise. Will the publisher agree to these terms?
Supposedly it's not even all about the money. Insiders have reported that FIFA does not agree to EA Sports' exclusivity claims. The world association wants to limit EA's monopoly and look for other revenues with its name. EA Sports, on the other hand, demands that they are creatively limited by the FIFA. Apparently, EA wants to do more fun modes and the FIFA says nope. So, you see: Both sides have different ideas.
The decision shall be made at the end of the year. Neither FIFA nor EA Sports want to comment on the ongoing negotiations. But to calm you down: if EA Sports really ends up renaming its franchise, it won't have as much of an impact on actual gaming. EA holds an extremely large number of licenses to leagues, clubs and players. Basically, it's just about the name of the game and the realistic representation of the world championship. The publisher can actually do fine without the FIFA license.
Concerning EAs' other sports games like Madden or NHL, such a dispute would have heavier effects. Madden is based on two key licenses – the rights to the league itself and the rights to the players. If EA lost one of them, the game would be over. In contrast, the FIFA dispute is all about money... and maybe a bit of prestige.
Fun fact: FIFA is a little dependent on the income from the contract with EA Sports. President Gianni Infantino has to somehow raise 2 billion USD for his insane projects in the upcoming years. A new contract with EA would help him a lot. So the negotiations could go on.
FIFA Will Negotiate With "More Than One Developer"
In the meantime, FIFA (Fédération Internationale de Football Association) (Editor: lol, go off, I guess) has also spoken out. In an official press release, the association speaks of "widening the gaming and esports portfolio". The key point is the part about working with other developers:
Technology and mobile companies are now actively competing to be associated with FIFA, its platforms, and global tournaments. FIFA is engaging with various industry players, including developers, investors and analysts, to build out a long-term view of the gaming, Esports and interactive entertainment sector.
Boom. Statement. FIFA makes a clear reference to the expiring license agreement in terms of naming rights with developer EA. We're really excited to see the end of this name thing. It looks like 2K Sports could grab the rights... So, are we getting a FIFA 2K23 soon?

In any case, the competition is not getting smaller for EA. Strikerz Inc. has announced a football game named UFL – ManCity star Oleksandr Zinchenko is the first official partner of it. And there are also plans to shake up the online soccer simulation market with GOALS.

Will FIFA 23 Be Free To Play?

In fact, Konami could play a very big role in this story. With the F2P model, the Japanese company has caused a big stir among its competitors, and rumors have spread that FIFA 23 will also be free to play. EA could then solely focus on Ultimate Team and keep making money with it.
However, the latest developments state that FIFA 23 will not be free to play.

Should FIFA really get renamed, it would be like an earthquake. We have known the series by that name since 1993. I can hardly imagine anything else... But we will probably buy EA SPORTS FC 23 or something in the future. EAFC 23...? We're just speculating.
FUT Icons – What Could Messi, Ronaldo And Others Look Like?

View gallery