Valve and TikTok have entered a new collaboration for Counter-Strike 2. Consequently, you will need to link your TikTok account to your CS2 account to sign in to the game.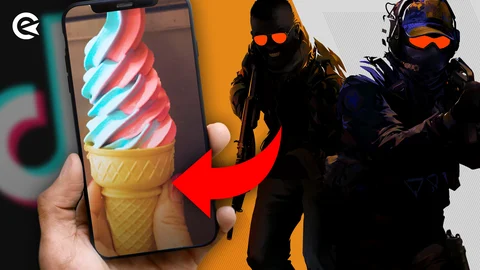 Counter-Strike 2 was officially announced last week, and although we've already learned a lot about what the CS:GO sequel will look like, there are still some questions left to be answered. One of the big ones has been whether you'll need a special launcher app or whether you can just start the game directly. Now we have the answer, and it's nothing short of revolutionary.

Besides the classical launching way via Steam that will mostly stay the same, you'll need to link your TikTok account to CS2 to enter the lobby. This is the consequence of a new collaboration between Valve and TikTok owner ByteDance.

Not by choice, though, but according to the official press statement (linked below) ByteDance is convinced that by doing this "Counter-Strike players will eventually realize how much fun TikTok actually is" (plus they'll have the chance to get in touch with other gaming communities, like those of Candy Crush, Genshin Impact and CoD). So, CS players are most likely about to start joining the social media platform in their droves.

Some users may see this skeptical, but fulfilling specific requirements to be allowed to play a certain game is actually nothing new. For example, to play Modern Warfare 2 you have to register your phone number first, and it's the same with Overwatch 2. It seems like this is just the next step, and we expect other game publishers to follow this example.

CS2: TikTok & Valve Collab Rewards You With Free Cosmetics

As mentioned, you will need access to TikTok for the initial account creation in Counter-Strike 2 and stay connected to enter the game's lobby. And if you go on to use the app for more than 12 hours a month, you will be rewarded with free Weapon Cases.
This is an excellent step forward for the two companies. TikTok can tap into a new market, and Valve can generate even more revenue from CS2. We also think that once the initial shitstorm has passed, the players themselves will be a fan of this collaboration.
Sure, some players might complain about using TikTok, but it only takes a few minutes to make an account, and who doesn't love free weapon crates? Plus, there's also the great content on TikTok to enjoy, so it's not exactly a loss having to spend time on the app (and 12 hours really isn't a lot, that's only 3 hours per week).
Here's the official press statement from Valve and ByteDance on the topic (we strongly recommended taking a look).
Check out our personal Game of the Year nomination for 2023, Skull & Bones: