In the latest Harry Potter RPG, Hogwarts Legacy, you get to choose which house you would like to be in. But the houses in Hogwarts Legacy will have a lot more impact on the game than merely which common room you can access; it looks like the houses in Hogwarts legacy will each have their own storyline!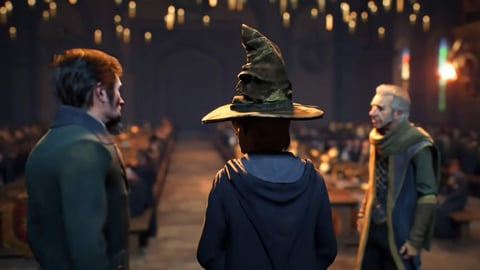 We're fast-approaching the Hogwarts Legacy release date, and unsurprisingly that means we're getting a ton of leaks. One leaker in particular has gone above and beyond for the community, sharing hundreds of photos from the official artbook and revealing key gameplay details before fans decide whether they want to pre-order. Among all the new info was the great news that the game will have multiple storylines for each of the Hogwarts houses.
New Leaks Explains How Each Hogwarts House Will Get Their Own Storylines
As shared by Hogwarts Legacy leaker @ManwithSecrets_, there is a different storyline for each of the Hogwarts houses. So if you pick Slytherin for your character, for instance, then you will get to see different locations and cutscenes than someone who picks Ravenclaw. However, all the storylines apparently have the same final mission.
One example struck us as particularly interesting:
Students of a certain college will therefore visit Azkaban for a while.

So, Azkaban really is one of the locations in Hogwarts Legacy. We thought as much when we caught a glimpse of it in one of the trailers, but the studio were always very hesitant to talk about the magical prison, or show any more footage. Now we understand why. We suppose you'll need a great flying mount to reach Azkaban, though.
Do you like that each house will offer its own storyline? Or are you worried you'll pick the "wrong house" for your first playthrough? We think it should guarantee some extra replayability, and if you like the idea as well, here's a link to pre-order Hogwarts Legacy (and here's some extra info on whether pre-ordering Hogwarts Legacy is worth it, and what additional content you will get if you're on PS5 or PS4).
The same leaker has suggested that Phoenixes will also be available as mounts:
This article contains affiliate links which are marked with [shopping symbol]. These links can provide a small commission for us under certain conditions. This never affects the products price for you.