Hogwarts Legacy was just hit by a big leak, revealing tons of new details on the upcoming Harry Potter game, including info on the length, what content didn't make it in and how the story and houses in the game will work.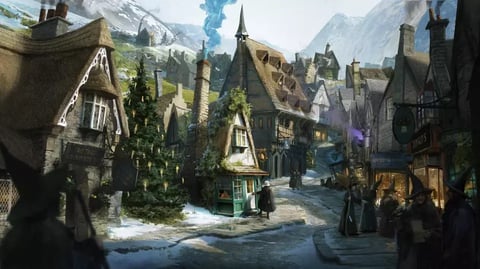 The Hogwarts Legacy release date is coming up soon, and it's one of the most anticipated games of 2023, so fans are obviously clamoring for new info on the game before the launch on February 10 (old-gen versions will have to wait a bit longer). And huzzah, we finally do have new info! A leaker got hold of the official art book and has revealed many exciting insights on the upcoming Harry Potter RPG.
Hogwarts Legacy – Art Book & More Details Leaked
A supposed insider revealed that they got hold of the official art book of the game and has shared images from it, as well as in-game screenshots from Hogwarts Legacy. The images look legit, and they reveal the map, concept art, character portraits and more.
#HogwartsLegacy #Hogwarts pic.twitter.com/KQCnkjc7ER

— Bigby (@ManwithSecrets_) January 16, 2023
The one in-game screenshot that's been floating around reveals an armor and customization system, which we didn't really know about before. It looks like it will be similar to recent Action-RPGs like God of War: Ragnarök or Assassin's Creed Valhalla. The images from the book show, among many other things, how seasons will affect the look of locations like Hogwarts and Hogsmeade, which is a lovely touch and a big plus for the game's atmosphere.
In addition to the art book, the leaker also revealed tons of additional details on the game via Discord. According to them, the game will be 35–70 hours long, depending on play style. The leaker emphasizes, that there is a lot of side content in the game, including big side quests for each house – except Ravenclaw, for some reason? They also didn't get their own companion, so seems like the developers gave them the short end of the stick.
More leaked house details include the interesting bit, claiming that depending on which house you choose in Hogwarts Legacy, you will experience the story differently. Each house will follow a different storyline and will therefore also get exclusive access to some locations in the game.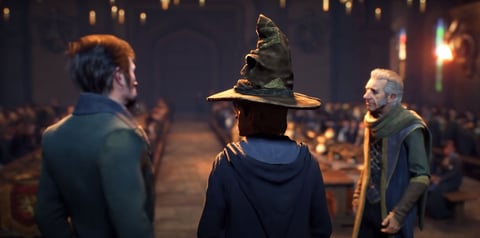 The leaker also claims that Quidditch was worked on for a year, but ultimately got ditched. However, we could see it coming at a later date via post-launch DLC for Hogwarts Legacy. This hasn't been stated by the leaker, but, you know... you gotta have hope, right?
We do know, however, that DLC is at least the plan for two regions which have been sectioned off from the map and are set to come as DLC later, if the game does well: the Highlands and the Swamp.
While a lot of this sounds cool and plausible, it's obviously not as easily verifiable as the art book images, which would be a lot harder to fake. We suspect these leaks are correct, but enjoy them with a grain of salt until we have official confirmation on these details.