The Special Program Livestream for Honkai Star Rail revealed many new details about the upcoming patch and banners. Find out about all the events and special announcements right here!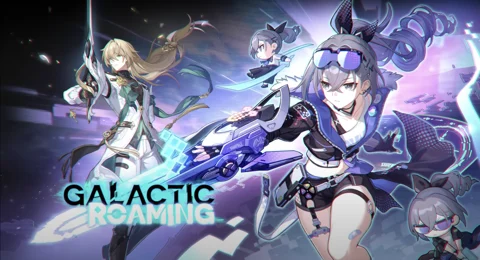 The first Special Program Livestream for Honkai Star Rail finally went live! After some technical difficulties in the beginning, we can now take a look at the upcoming patch. And we are definitely in for a treat, since a bunch of new events and characters are on their way for patch 1.1!
Let's take a look at all the announcements!

Honkai Star Rail: Special Program Livestream
The Special Program Livestreams are almost like a HoYoverse tradition, which will be continued with Honkai Star Rail as well.
Did you miss the stream, but you still want to see the awesome footage about the new update? Don't you worry! You can just keep on reading, and we will inform you about all the special announcements, or you watch the stream as a video on YouTube right here:
The overall name of the new Honkai Star Rail version will be "Galactic Roaming". Pretty fitting for some spaceship crew's adventures!
The start of Version 1.1 is June 7, 2023. The first half of the update will run from June 7 to June 26, 2023. The second half will run from June 28, 2023, to July 18, 2023.
Let's get into details about the upcoming characters!
New Characters And Light Cones
Let's take a look at the new characters fist!
New Characters In Version 1.1
Immediately at the beginning of the announcement trailer we are introduced to the long awaited star of this announcement: Silver Wolf. She will be one of the two new 5-Star units in Honkai Star Rail, along with Luocha.
Silver Wolf

Silver Wolf is a very popular character and since we could see her right at the very beginning of the game, along with Kafka, she has gathered a huge fan base around her, who were patiently waiting for her announcement.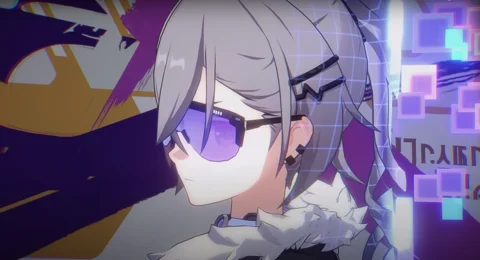 She is one of the best, if not THE best, hacker in the whole Honkai Star Rail universe. Silver Wolf has a unique and quite sassy personality, but since her talent is simply unsurpassed, she can allow herself one or two silly comments.
"Can you let ME have some fun this time?" – Silver Wolf
Next to her being a famous hacker, she is obsessed with playing video games! (Somewhat relatable …) The entire world is just a simple game to her, hence why she is taking most difficult looking situations quite light-hearted.
She will be a 5-Star Quantum character, who follows the path of The Nihility. If you want to find out about her abilities and skills, you can check them out right here:

But let's not forget about the other new upcoming 5-Star!
Luocha

Luocha is a mysterious traveling merchant, who luckily stopped at the Xianzhuo Luofu right when they needed him! He is dressed quite unique but very classy and his long blond hair is definitely an eye-catcher.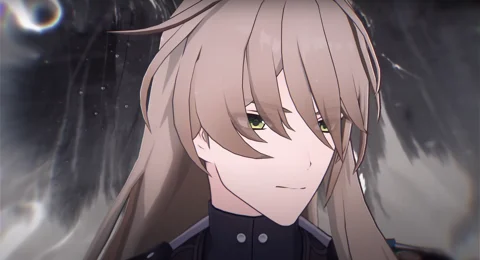 But it is not only his appearance that makes Luocha unique. The huge coffin that he carries around all the time also attracts some attention, but when you ask him what's inside, he will probably try to sell you something to dodge said question and to make some money on the side!
"This coffin isn't mine. I was merely entrusted to bring it back to the Luofu." – Luocha
Luocha will be a 5-Star Imaginary character, who follows the path of The Abundance. If you are interested in his abilities as will you can find them right next to Silver Wolf's right here:
Last but not least, we will get a new 4-Star character as well!
Yukong

Yukong is the Head of the Sky-Faring Commission in the Xianzhou Luofu and was a well known pilot before being covered in paperwork nowadays. She is responsible for everything that goes on in the airspace of the Xianzhou Luofu.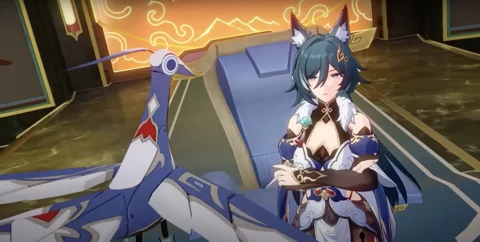 She is an elegant lady with whom you certainly should not mess around! However, when you get to know her better, she has a very caring personality.
"We shouldn't rely on a stranger just like this!" – Yukong
Yukong will be a 4-Star Imaginary character, who follows the path of The Harmony. You can find her ability rundown right underneath Silver Wolf's!
Let's take a quick look at the associated Light Cones.

Light Cones In Version 1.1

The first one will be Silver Wolf's Light Cone: Incessant Rain: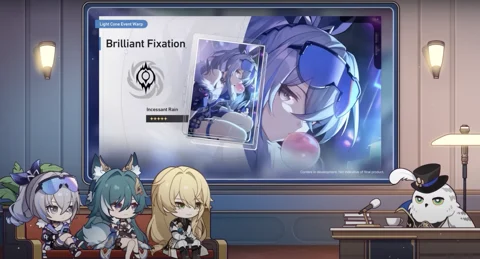 Incessant Rain is a 5-Star Light Cone, which belongs to the path of Nihility. It has the following effect at S1:
Each time the wearer starts a turn, there is a 100% base chance to implant a random enemy with Aether Code. When that enemy is inflicted with Break, Aether Code self-destructs, dealing additional DMG to that enemy equal to 80% of the wearer's ATK. When attacking an enemy with more than 3% debuff(s), deals additional DMG equal to 40% of the wearer's ATK.
Sounds petty strong! Just like Silver Wolf herself.
The second new Light Cone will be: Echoes of the Coffin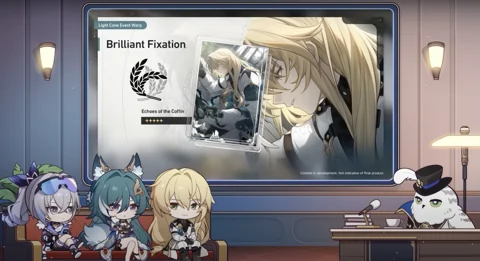 Echoes of the Coffin is a 5-Star Light Cone, which belongs to the path of Abundance. It has the following effect at S1:
Increases ATK of the wearer by 20%. After the wearer using Ultimate, all allies gain 16 Speed for 1 turn. Additionally, for each different target the wearer attacks, recovers 5 Energy. Each attack can recover Energy a maximum of 3 time(s).
Now on to the event-part of the announcement!

New Events And Rewards

In total, there are four events planned for version 1.1! Get a good overview of them right here:
Starhunt Game
The first even in version 1.1 will be about Silver Wolf's mischiefs!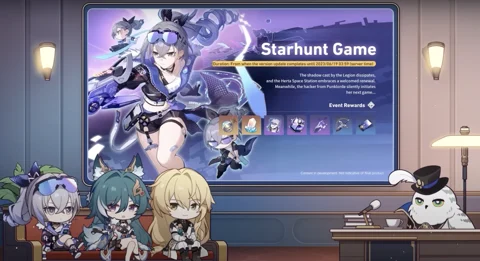 Silver Wolf left numerous digital graffities all around Herta's space-station, with hidden messages inside of them. Find all of them with the help of the Mechanical Aristocrat Screwllum, who is, just like Herta, part of the Genius Society.
Screwllum and Silver Wolf had a little face-off some years ago as well. You can see said scene in the new 4-Star Light Cone "We will meet again", which belongs to the path of Nihility.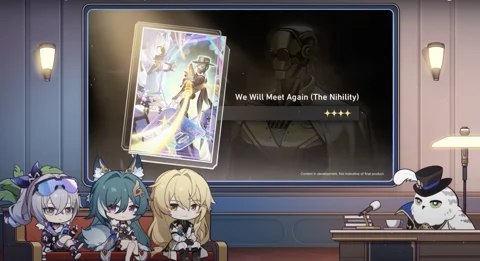 Collect and scan all the graffities and place them wherever you want around the space-station. They look really cool and make a good decoration in my opinion!
If you found all of them, you can buy upgrades for your event Light Cone "Before the Tutorial Mission Starts" in the event shop as well. This Light Cone belongs to the path of The Nihility as well and fits Silver Wolf like a glove!
It looks really cool as well: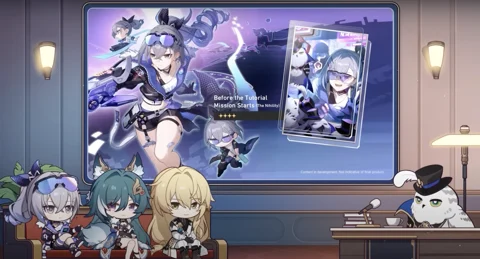 Looks like a pretty powerful Light Cone to me as well! There are so many great free-to-play options in the game already!
Let's shed some light on the second event that version 1.1 has in store for us!
Everwinter City Museum

The Everwinter City Museum event will take place in Belobog in the History Museum.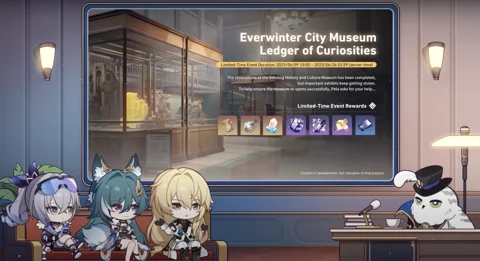 Help recover the stolen exhibits of the museum and return them to their places.
You can also become the director of the museum! Collect brand-new exhibits and improve the overall experience for visitors to the museum. Hire new employees and collect funds to make your exhibition even more impressive!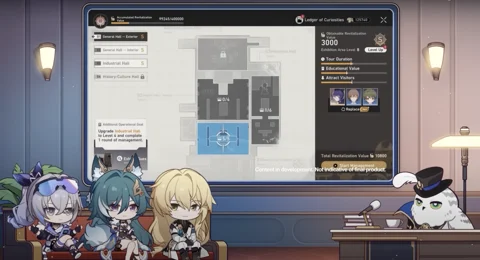 After the event ended, you can go back to your museum whenever you like, since it will stay open for the rest of the game. But you can't add any more exhibits after the event is over, unfortunately …
Onto the next event in version 1.1!
Stellar Flare
Stellar Flare is a combat event in version 1.1, which looks and works a lot like the Forgotten Hall.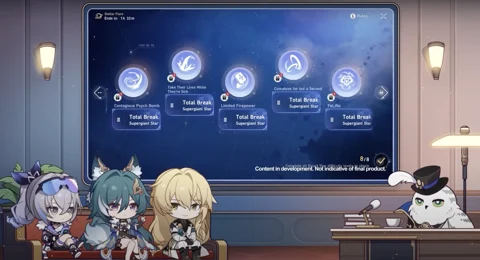 Beat numerous stages of combat, but beware of the challenge mechanisms! They can be quite useful sometimes, but can mess up your whole rotation as well.
Think outside the box and include the trail characters to make best use out of the secret mechanisms' advantages. The goal is to complete the stages in as few turns as possible.
Let's take a look at the last event of version 1.1
Lab Assistance In Position

Science needs your assistance!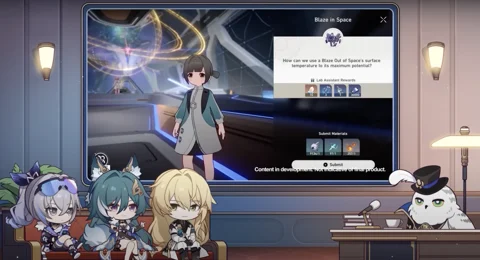 The Antimatter Legion's invasion has messed up Wen Shiling's progress in researching about monster materials, and now you have to help her to not fall behind too much.
This event is more of a daily event. Collect new monster materials each day and bring them to Wen Shiling from the Department of Implement Arts on Herta's space-station to receive corresponding rewards from her!
New Companion Mission
There will be four new Companion Missions in version 1.1.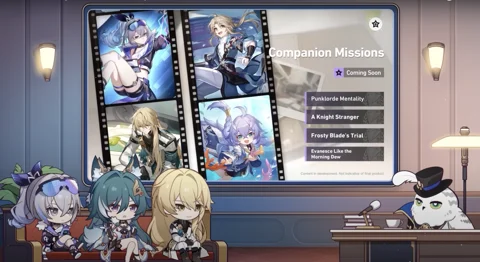 Said missions will feature Silver Wolf, Luocha, Bailu and Yanqing! How cool is this?!
Unfortunately there are no further details on these missions right now, and we will have to stay patient until they finally made it into the game in around three weeks from now on.
New Chat Features

Finally, we will be able to chat with our friends in Honkai Star Rail and not just with our favorite characters!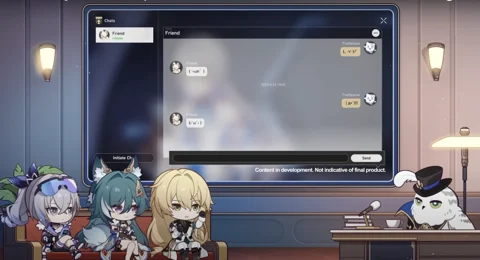 This change was needed for a long time already, but now we can finally exchange information with friends about our missions in the game!
Those were all new features, characters, and events of the upcoming 1.1 version for now! If you want further information on rewards or quests within the event, check out your upcoming articles on the game!

This article contains affiliate links which are marked with [shopping symbol]. These links can provide a small commission for us under certain conditions. This never affects the products price for you.