As a big name in Sony's exclusives Horizon Zero Dawn has conquered our hearts. Now a remake seems to be in the works not not with the original creators Guerrilla.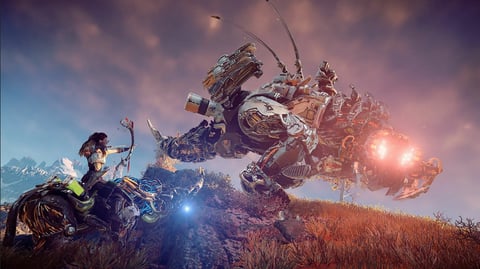 With the new generation of consoles, many publishers want to remake or remaster their best titles and release these new versions for an even better gaming experience. In October, rumors have suggested that this treatment will happen to Sony's Horizon Zero Dawn soon as well. Now inside sources claim, the improved game won't be developed by its creator Guerilla Games. Instead, a different team is said to be working on it.
Just 5 years ago, Horizon Zero Dawn released with big applause from critics and fans. So we ask ourselves if a remake or remaster is even necessary at this point. Sure, an update in graphics and design is always nice, but do you really need a new game for that? This question came up again with this news.
Horizon Zero Dawn Remake: Not Developed by Guerrilla
Colin Moriarty, a top insider of the industry, explained on his podcast that Sacred Symbols Guerilla isn't responsible for the remake/remaster
We're also assuming that [Guerrilla] is making the Horizon remake thing there, although, if that's real, what I've heard is that it's at another team.
At this time, Sony hasn't confirmed anything about this Horizon remake yet, so don't take this as absolute truth. The signs do point in this direction though. Guerilla is busy with the DLC Burning Shores for Forbidden West, the VR game Call of the Mountain and a yet untitled multiplayer game. With all that on their plate, I don't see how they could fit in a remaster.
With that in mind we'll have to wait for more information and enjoy Horizon's new content in the coming months!