The new mythic skin for Overwatch 2 season 4 just got leaked, and it reminds us a bit of a popular MCU villain.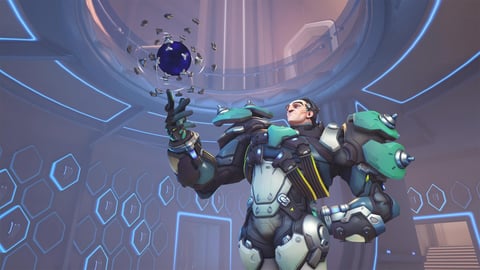 Overwatch 2 Season 4 is going to release soon and will bring lots of new content to the game. There will be a brand-new battle pass, a new support hero and of course, another mythic skin. Although Blizzard will reveal the official launch trailer for Season 4 later today, we've already gotten ahead of them with some info. The new mythic skin has just leaked and we will tell you who's the lucky one this time.
Overwatch 2 Season 4 Mythic Skin Leaked
With the start of each new season in Overwatch 2, one hero is getting treated with a special mythic skin. These skins are quite unique, as they can get customized by the player in whatever way they want it to look like. Until now, there are mythic skins for Genji, Junker Queen and Kiriko, and they all look amazing. Each season's Mythic skin is locked behind the last tier of the premium battle pass, so it takes quite a lot of effort to get one of them.
But considering how cool they look, it is definitely worth the grind... And there are some tricks to level up your battle pass faster.
Enough of the talking, you probably all want to know which hero will be blessed with this remarkable skin in season 4. One of the popular Overwatch 2 leakers on Twitter, @OverwatchNaeri has published a clip of the popular Korean twitch streamer, "Mirage", who is playing season 4 in early access. In the clip we see the Overwatch main menu, with the new skin in the background, which is.... "drummroll"... for Sigma!
Overwatch 2 Season 4 Mythic Sigma Skin Revealed

The new Mythic Skin for Season 4 is Sigma.

Source: https://t.co/adV4i2a1yB pic.twitter.com/gaWtwJMPee

— Naeri X (@OverwatchNaeri) April 4, 2023
Sigma has become one of the top tier tank heroes in Overwatch 2, and many fans like to play him. Although I must say, that Kiriko's mythic skin is still the best one so far, this new one for season 4 looks quite cool and definitely fits to a tank like Sigma. To be honest, it also looks a lot like Thanos.
Whether you're a PC or console gamer, playing Overwatch 2 with friends is incredibly fun. But one thing I had to search for a super long time is a decent gaming headset. For me, comfort as well as good microphone and sound quality were most important. Recently, I found just the right thing for me. The Razer Barracuda X (2022) is the best gaming headset I've ever had. It's super light, has incredible sound and microphone quality, and the best part is that it doesn't look like a clunky, cheap gaming accessory, but is actually very stylish, exceeding all my expectations.
This article contains affiliate links which are marked with [shopping symbol]. These links can provide a small commission for us under certain conditions. This never affects the products price for you.