In Warzone 2 and Modern Warfare 2's Season 2 Reloaded update, a new marksman rifle was added to the game called the "Tempus Torrent". Here is how to unlock the new MMR, as well as the best build for the weapon in Warzone.

Warzone 2 and Modern Warfare II Season 2 Reloaded began on March 15. We got some pretty decent new content, including a new map and a new series of camo challenges. And, of course, a new weapon: the Tempus Torrent.
What is the Tempus Torrent like? Here's a quick overview:
M4 Platform (and access to that family of attachments).
Good bullet velocity.
Similar damage and rate-of-fire to the EBR-14 (which is A-tier in Warzone right now, but not great in multiplayer).
The recoil pattern kicks up sharply and then goes slightly to the left.
It has a base magazine capacity of 20 rounds.
It's basically a really good rival to the EBR-14. In this article you can find out how to unlock the Tempus Torrent, and the best Tempus Torrent Warzone build.
Completing the challenge to unlock the Tempus Torrent for free will be much easier if you have Modern Warfare II.
MW2 & Warzone 2: How To Unlock The Tempus Torrent
The Tempus Torrent marksman rifle can be unlocked by either completing the in-game challenge, buying a bundle in the store that contains a blueprint for the weapon, or having a friend drop it for you in the DMZ. If you can afford to just buy the Tempus Torrent, or you have a friend that will drop it for you in the DMZ, then congratulations - these are obviously the easiest ways to unlock the weapon (and you probably won't need a guide). But if you want to get the Tempus Torrent for free, here is the challenge you need to complete:
Get 25 Double Kills with Marksman Rifles
You can complete this challenge in Warzone 2 or Modern Warfare II's multiplayer. If you have MW2, it will be much easier to complete the challenge this way, and should take less than an hour. If you only have Warzone then it will be harder but not impossible.

Here is our advice:
Getting 25 MMR Double Kills In Multiplayer: Use the SPR-208 and play Shipment if possible (otherwise Hardpoint).
Getting 25 MMR Double Kills In Warzone: Use the EBR-14 and play Resurgence.
It's an annoying challenge, and if you're really struggling we advise you to go and ask someone from the DMZ Reddit community to drop it for you. They arrange a lot of weapon drops for randoms struggling to complete new weapon challenges.
The Best Attachment Setup For The Tempus Torrent In Warzone 2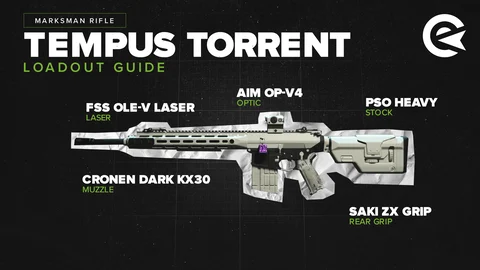 | | |
| --- | --- |
| Slot | Attachment |
| Muzzle | Cronen Dark KX30 |
| Laser | FSS OLE-V Laser |
| Optic | Aim OP-V4 |
| Stock | PSO Heavy Stock |
| Rear Grip | Sakin ZK Grip |
For a single fire weapon like the Tempus Torrent, we want to increase Recoil Control, Recoil Stabilization (which is particularly helpful for semi-auto weapons), and Aim Down Sight Speed. All the attachments we've chosen give the most efficient tradeoffs, although if you don't like using visible lasers, then drop the laser for High Velocity ammo.

In terms of optics we recommend no more than a 1x or 2x for Resurgence, and a 2x or 3x (like the Schlager) for Battle Royale modes.

The Best Loadout For The Tempus Torrent: Secondary, Perks & Equipment
Secondary: Lachmann Sub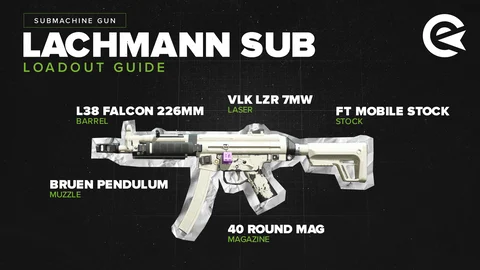 The Tempus Torrent is going to lose in close-range gunfights, so you really need to bring an SMG in the pocket. There are tons of good SMG options, but we find the Lachmann Sub to be very comfortable. It has fairly low recoil, good mobility stats, and a competitive close-range TTK.
Perks (Base, Bonus & Ultimate)
Hooray! No more Perk Packages, we can pick what we want.
| | |
| --- | --- |
| Base Perk | Overkill / Bomb Squad |
| Bonus Perk | Resupply |
| Ultimate Perk | High Alert |
These are definitely our favorite perks right now. Overkill allows us to take both primary weapons, Bomb Squad can keep us alive against a few extra nades, and Resupply will guarantee that we have Flash Grenades to use. The Ultimate slot is a little bit trickier, but we think for the average player High Alert is the best option.
Equipment (Lethal & Tactical)
You could pick a ton of different grenades, but this is our go-to:
| | |
| --- | --- |
| Lethal | Drill Charge |
| Tactical | Flash Grenades |
Flashbangs have always been strong in Warzone, but in Warzone 2 and MWII, they feel particularly strong (even with the new inverted Flashbang settings). While the Drill Charge is just plain fun-to-use, and it's pretty decent against vehicles too.
There you have it folks, a short guide on unlocking the new Tempus Torrent. Will you be using it? Or are you still a die-hard slave to the meta?
They are probably saving all the OG MW weapons you're nostalgic for until CoD 2023:
This article contains affiliate links which are marked with [shopping symbol]. These links can provide a small commission for us under certain conditions. This never affects the products price for you.