Amouranth is going to take an indefinite break, after she opened up about the abuse she was suffering at the hands of her husband. Hopefully this will help her sort things out.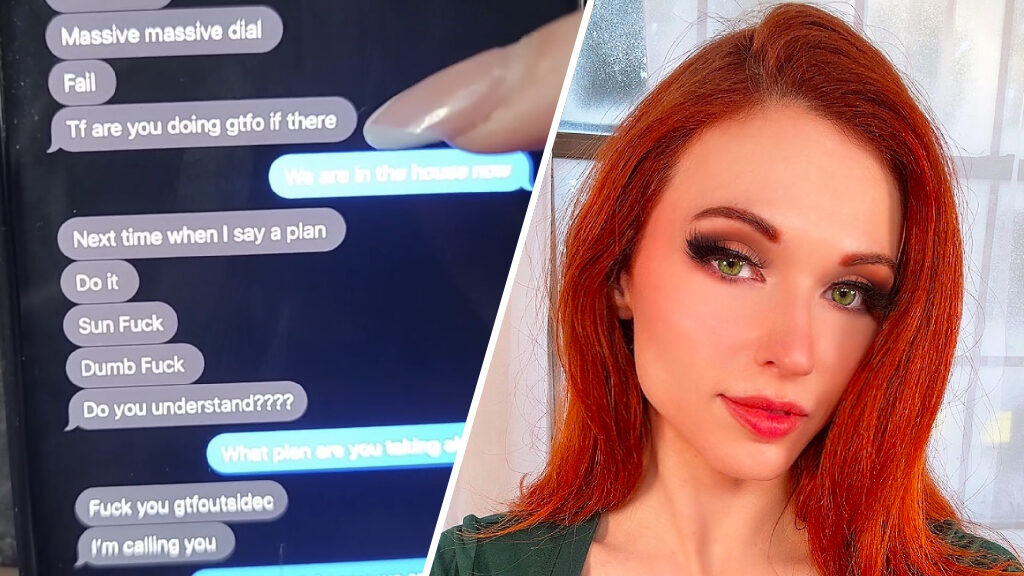 On October 16, Amouranth went live to broadcast to her audience, how she has been suffering behind the scenes, due to the abuse of her husband. Now, it seems, that she is doing better, saying she is "free" and seeking legal and emotional counseling.

We want to start by wishing Amouranth all the best. We hope that she can escape what seems to be a terrible situation. And if you recognize any similarities between your own relationship and Amouranth's then we implore you to seek support.
Unlike much of the conversation that happened on Twitter, we aren't going to treat this matter with flippancy. This is upsetting and serious.
Here is what happened:
Note: the following article contains themes that some readers might find upsetting. Consider this a trigger-warning for all those with relationship trauma.
Amouranth Reveals All To Stream
Amouranth began streaming in the early morning of Sunday, October 16, and appeared to break down before her chat, revealing that her husband had been abusing her. Before the stream went offline, Amouranth showed the text history between herself and her husband. He was incredibly controlling in the texts and was threatening to spend her money if she didn't respond to him.
You can see some of the screenshots below:
Amouranth just tearfully told her chat about her husband who has been: controlling her financials, threatening to kill her dogs, verbally abusing her and more....

Dang these texts are messed up. pic.twitter.com/DEDFUHQAUS

— Full Squad Gaming (@fullsquadgaming) October 16, 2022
This is Amouranth's life, and she absolutely deserves privacy in this matter. But on the other hand, we're so glad that she did do this stream in the end. We're really hoping that by exposing him, others in her life can now help, and she can hopefully escape the situation.
The violent way he speaks to her is abuse in itself, but what really raises alarm bells is the constant demand that she call back. This is textbook emotional abuse, and it's not the way that anyone should be treated. From what else she said on stream, it seems like this guy has been in the background for a while, but he's been telling her to pretend she's single to followers.
During the stream, she also managed to get him on a call, so we could witness his cruelty. And it completely shocked the audience. He was screaming at her for the smallest things. But, at least, there's now video evidence of him admitting to all kinds of terrible behavior, even threatening to destroy her career.
Amouranth's reaction to all of this was heartbreaking, she was sitting in her chair, crying her eyes out. The confident Amouranth we knew from her streams was nowhere to be seen, while her "husband" was gaslighting and belittling. To anyone who thinks this whole scandal is fake, how much more proof do you need?! Consider this another trigger-warning: you hear him verbally abusing Amouranth during the call.
It is absolutely insane to me, that there are people out there, like Keemstar, who are blaming her for this situation:
Reminder that for every Amouranth situation there are somehow people like Keemstar, who downplay an abusive situation and somehow try and put it back on the victim...

fkin weirdo pic.twitter.com/517wQ0W7Wx

— Jake Lucky (@JakeSucky) October 16, 2022
As of now, it seems her situation has improved considerably. She went live and started talking about the situation to her viewers. In that stream, she seemed relieved and talked about finally feeling "free". She mentions, that she was able to get back access to all of her accounts and her finances and that her husband is getting help. It seems, after she broadcasted their call, he listened to himself talk for the very first time, and realized what an absolute asshole he is. Took him long enough.
Amouranth is also seeking emotional and legal counseling, and it seems the two of them are going their separate ways. I really hope that is true, and that she will be able to work on the emotional trauma this must have caused her and to get her second chance at life! She herself is looking forward to "have friends again", get some sleep, watch TV, "wear some clothes" and "feel like a human again". That should be the bare minimum!

Amouranth Takes Indefinite Break From Twitch
After being back on Twitch for a short while, Amouranth now decided to take an indefinite break from streaming and probably creating content in general.

Taking a break, not sure when I'll be back pic.twitter.com/gzqJylsAcK

— Amouranth (@Amouranth) October 19, 2022
This is likely for the best, as it allows her to think about what she wants to do from now on. Now, that she finally has control over her own life again, this must be both a frightening and exhilarating feeling. I really hope she finds, what she really wants to accomplish and is able to work in that direction.
No more bathtub streams, if she doesn't want to, no more OnlyFans, if she doesn't want to! She can now decide for herself, and we wish her all the best for that. Take your time Amouranth, it's your life now, do what makes you happy.
We don't know about you guys, but we are really looking forward to this new chapter in Amouranth's life. And if she decides to step away from streaming or creating content in general, that's her right! After all, she's been through, we could totally understand that. But if she wants to return after a certain time, we would gladly welcome her back.

Let's end with some of Amouranth's many achievements: