During a recent ASMR broadcast, Amouranth cut the show short to rescue a Baby Bunny that had been brought in by her dog.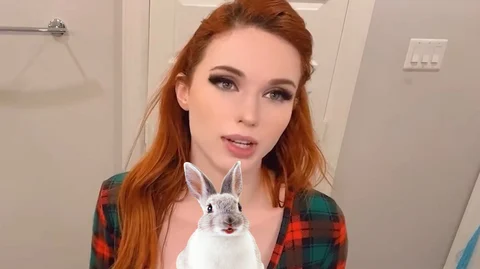 Amouranth has become a bit of a savior over the last day or so, after helping out a furry little animal in need. It's a far cry from the antics we're used to, only a little over a week since she pretended to be pregnant and drew the ire of many horny fanboys. Maybe Elon Musk will even get a little bit jealous, considering the love and affection that Amouranth seems to be giving to this little guy.
This is one popular Twitch streamer and OnlyFans star, making this possibly one of the most successful rabbits to ever grace the internet. What happened, though, what did she do to save the little guy, and why did she even need to exercise such compassion? No matter the answers to these questions, one thing is for certain: it's gosh-darn adorable!
Amouranth Saves Baby Bunny During ASMR Stream
During an ASMR broadcast, Amouranth suddenly cut herself off to help a baby rabbit who had been brought in by her dog. Bear (the name of said dog) had put the bunny in his mouth and was presenting him to her when she was attempting to do the stream. Upon realizing, Amouranth jumped straight into action!
This little furry guy seemed a little worst-for-wear when she found him, with Amouranth explaining on Twitter that she was trying to nurse it back to health.
ASMR interrupted by bear finding a baby bunny. Miraculously he is still alive after being in bear's maw. He's on heating pad & I have KMR & goat Milk coming from instacart... If he survives the night he'll go to nearby vet in AM & get the best care money can buy. RT for luck
It seems, though, that there has been a relatively happy ending to this story, with Amouranth's heat pad, KMR and goat milk doing to trick to bring this little bunny back to full health. We don't know yet if Amouranth ended up taking him to the vet or not, but he seems pretty healthy now and is eating solid food.
He's eating solid foods now and very cuuuuute https://t.co/yRNhTtjcmo pic.twitter.com/nz5NdPDcIs

— Kaitlyn (@wildkait) April 11, 2022
So it seems that Amouranth's kindness and compassion worked out in this baby bunny's favor. We are wondering what happened to the poor little guy, and would recommend that Amouranth get the advice of a vet as to how best she should look after him. Baby bunnies don't usually eat solid food this young, so she may need to get some special milk or something. We wish her and this adorable little critter the best of luck!