Logan Paul takes accountability after the allegations brought up by Coffeezilla, claiming he tried to "scam" people with his CryptoZoo project. Since his initial response received a lot of backlash, he decided to apologize and finally take some responsibility.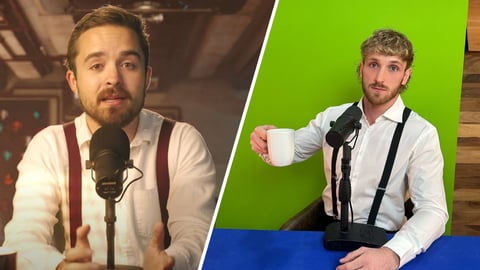 Logan Paul has finally acknowledged his shortcomings after Coffeezilla's videos, exposed how his CryptoZoo project cost people millions. In his first response, pretty much all he did was try to discredit the internet detective, shifting the blame onto the people HE hired, instead. But since then, Logan has taken down the video and publicly apologized, promising to make things right.
Over the past couple of weeks, Coffeezilla, a YouTuber who is well known for exposing crypto scams, released his three-part series investigating Logan Paul's NFT project CryptoZoo.

After a lot of back and forth on social media, Logan released his response video. Rather than addressing the allegations brought up by the internet detective, he tried to discredit Coffeezilla, instead shifting the blame onto the people he hired.
Logan has deleted the video, apologizing to the internet detective via a phone call and promising his fans that he will take accountability and coming up with a plan to make this right.
Logan Paul's Initial Response Video To Coffeezilla

The initial response video started off with Logan trying to discredit Coffeezilla (like, a lot!) by accusing him of using his name for views and money, claiming he is not a trustworthy source of information and doesn't do his research properly, even twisting the facts in this case.

Kinda funny how he accused Coffeezilla of not doing his research while admitting to hiring MULTIPLE conmen/fraudsters in the same sentence.
Logan Paul accusing Coffeezilla of not doing his research while admitting he hired multiple criminals and conmen to his crypto team has gotta be the funniest thing out rn

— Jake Lucky (@JakeSucky) January 4, 2023
There was a bunch of other stuff Coffeezilla said, that Logan claimed was just blatantly untrue, like the game not working at all. In the end he even threatened legal action against the internet detective. This is connected to the alleged misinformation Coffeezilla is spreading with his videos as well as an "illegal recording" being used in the three-part YouTube series.
During the investigation, Coffeezilla recorded an allegedly private phone call with Paul's manager Jeff Levin, seemingly breaking the law in doing so.

Logan Paul Apologizes To Coffeezilla And Promises To Make Things Right

Now that Logan acknowledged his shortcomings, it looks like he no longer plans to follow through with the lawsuit and apparently plans to make a third response video, this time in a more apologetic tone, taking accountability for his mistakes.
Logan's response: his response was "rash and misaligned with the true issue"

He's going to be taking "accountability, apologizing, and coming forward with a plan". pic.twitter.com/nI2tyQd28i

— Coffeezilla (@coffeebreak_YT) January 7, 2023
He also updated fans in the CryptoZoo Discord server, saying: "Hey all, just wanted to update you. I deleted my initial response to Coffee's series. It was rash and misaligned with the true issue at hand, so I called him today and apologized… the war is not with Coffee."
This is a rather drastic shift, from "I'm going to sue you" to "Coffee did nothing wrong". Maybe the backlash was just a little too much, as his recent videos have been dislike-bombed, so he decided he can't shift the blame and has to take accountability to save his career.
Either way, Logan will post another response video, same with Coffeezilla, this time not just trying to discredit the person calling him out for his bullsh*t but actually owning up to his mistakes. Let's see how this one goes...