Twitch star Pokimane recently revealed some influencer secrets, maybe bursting some bubbles for people that love their wholesome YouTuber/Streamer couples.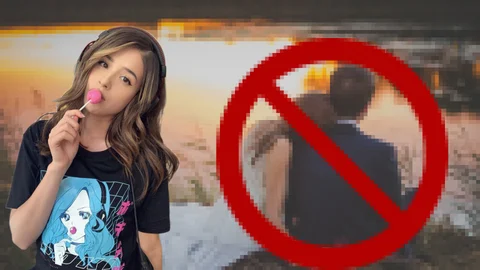 Imane "Pokimane" Anys, one of the biggest female content creators on Twitch, recently revealed some spicy secrets that could be interesting for you. On TikTok, she posted a video sharing insider information that could concern some of your favorite creators.
As one of the most-followed women on Twitch, Pokimane is sure to know her stuff, regarding behind the scenes activities and secrets even some of the most beloved streamers might want to keep hidden.
Sometimes stuff like this gets out, revealing something that could destroy a creator's image & maybe even his career, like what happened when the sexual assault accusations against Rich Campbell came out.
Even though what Poki mentioned wasn't nearly as bad as that, it's still some spicy stuff.
Pokimane Reveals Three Influencer Secrets "They Don't Want You To Know"
On March 6, Imane posted a video on TikTok revealing some insider information about influencer secrets that she claims "they don't want you to know".
The first thing she is talking about is "fake relationships" between influencers. Yeah, I know, who gives a f*ck. Well, in some cases I do! I for example was really happy when PewDiePie and Marzia announced that they're gonna have a baby. I know parasocial shenanigans etc. but that was just so wholesome.
Granted, this is pretty much the only influencer relationship I care about, but for some others it might be different.
In her video, Poki explained that there are more "fake relationships" than one might think and while it's "not crazy common" she states "they do exist".
She also explains that "when you hear, 'Oh, someone cheated on someone,' it's not cheating, they're just not really together,". Makes sense, I guess.
Her next point might come as a shock to those of you that have a favorite OnlyFans creator (mine is Daisy Duck, btw.), because many high-profile creators don't actually message all their subscribers! Shocking, I know. I really thought Corinna liked my new sweater…
Okay, but jokes aside, that one was already pretty much public information. Think about it. Some of these (mostly) girls have thousands of OnlyFans subscribers. There's just no way they CAN message all of them, even if they wanted to (which I doubt they do).
I know I'm being really sarcastic right now, but the last one (I thought) was interesting. Apparently, a "lot of the clothes that you see influencers wear are rented or borrowed if they're smart".
So the expensive designer clothes some of the bigger creators wear cost them exactly $0.

The problem with this (and probably the marketing strategy behind this) is that "people who want to be influencers, like they think that they need a bunch of Louis Vuitton or Gucci and this and that, and so they spend a bunch of money buying that".

So there you have it. Three spicy secrets about influencers that "they don't want you to know", featuring Pokimane as the insider source leaking sensitive information.
If you want more spicy secrets, we also cover more gaming related news, leaks etc.:
This article contains affiliate links which are marked with [shopping symbol]. These links can provide a small commission for us under certain conditions. This never affects the products price for you.