After joining the roster of hot female candidates on xQc's "Love or Host", Zastela apparently was banned in Adeptthebest's chat. Just because of that?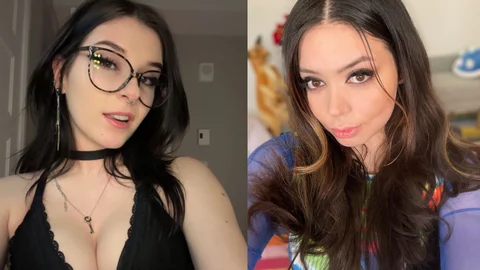 The female Overwatch streamer Zastela has been gaining a lot of attention recently, after her appearance on the popular Twitch dating show, Love or Host. The reason for this was not necessarily what happened during the show, but more what happened after it ended.
Love or Host is one of the biggest "dating shows" on Twitch, where a bunch of contestants (either male, female or else) have to compete for one person that is pretty much the "bachelor/bachelorette" of this show.

This person is always some kind of big streamer, that will choose who they want to date most and eliminate the rest of the contestants.
The funny twist with this is that the contestants get to pick either "Love" and get the chance to go on a date, or "Host" which gets them the viewership the show accumulates. So it's either love or money/fame.

xQc's Love or Host Dating Show Caused Some Drama
The person looking for love this time was one of the biggest streamers on Twitch, xQc. As one of the contestants, the female Overwatch streamer Zastela was competing with 10 other women, most of them OnlyFans models with HUUUGE… Juicers (Yes, Amouranth was there too).
Zastela was up for elimination pretty much every round, but still almost made it until the end of the show before getting eliminated.

All the contestants had to reveal whether they would choose "Love" or "Host" before getting kicked out of the call, and Zastela apparently chose "Love".
xQc's ex-girlfriend, Adeptthebest, didn't like that too much, and shortly after the show aired she banned Zastela from her chat. This was explained by Zastela in a now-viral clip.
In the clip, she claims that she was a long time viewer of Adept and didn't know what she did to get banned "besides getting rejected by xQc".

After the clip gained some traction, Zastela spoke out about the situation again:
It is so weird! Can I just say, like — I'm not milking it, but isn't it weird that you go into a person that was on a show and didn't even f*cking win, and you go and ban them? What are you doing? What the f*ck are you doing?

Her reaction again gained a lot of attention on various media, as most of the people seem to agree with her statements, calling Adept petty and overall being more supportive of Zastela.
xQc hasn't commented on the situation yet, and (looking at the legal procedures regarding his "divorce") I doubt he will.
There is just always gonna be some nice and juicy drama on Twitch, but nothing tops this one (okay, maybe the "forced" marriage a little):
This article contains affiliate links which are marked with [shopping symbol]. These links can provide a small commission for us under certain conditions. This never affects the products price for you.