Ultimate Team is the most popular mode in FIFA 23 and we explain all FUT game modes in detail!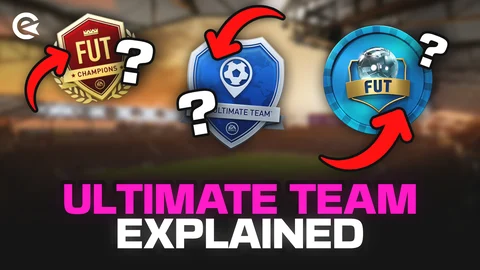 When you think of FIFA 23, the first thing that comes to mind is usually Ultimate Team. But many players are not familiar with the most played FIFA 23 mode. In this article we will explain FUT and all its game modes in detail.
In Ultimate Team there is a mode for every FIFA player. As a beginner you might not want to start straight into Weekend League or Division Rivals. Maybe FUT is not the right mode for you at all? Here we have an overview of ALL FIFA 23 game modes.

But Ultimate Team is not only about playing, you can also spend a lot of time in the menu and do various Squad Building Challenges. Every day at 7pm MET there is new content to find, be it Hero Player Picks, Icon SBCs or the Marquee Matchups.
FIFA Ultimate Team Mode Explained
FIFA Ultimate Team is the most popular mode in FIFA 23. Here you start with a bad team which you have to improve by grinding. You can't play licensed teams, you have to build a team out of licensed players and legends. There are all the players you will find in the kick-off mode, but each as a single card. You can play superstars like Lionel Messi and Cristiano Ronaldo, but you have to either earn them, buy them on the transfer market or pull them from a pack.
The packs, in turn, can be earned or bought with real money via "FIFA Points" (yes, pay to win). By playing and exchanging items from the packs you receive the ingame currency "FIFA Coins", which you can use to buy cards on the transfer market. The transfer market is live, so the players have dynamic prices that change every day. The better the player is, the more expensive he is on the transfer market. The prices of the cards are based on the FIFA meta. Here you can find good trading tips for beginners and advanced players.

When building a team, you have to consider the positions of the players and the team chemistry. You can't just randomly build a team, otherwise the players have no chemistry and play badly ingame. You get chemistry points if you field players from the same league, club or nation. We have explained the new chemistry system in a separate article.
Every Friday there is usually a new FUT promo, where players get boosted cards in a special design. In addition, there is the Team of the Week every Wednesday at 7 p.m., where players receive a special card based on their performance in real life. When Messi scores a hattrick for PSG, he gets an In-Form.

All Game Modes In FIFA 23 Ultimate Team

Ultimate Team has many different game modes. You can play offline and online, as singleplayer or in multiplayer. Here we have an overview of all FUT game modes:
Koop
Moments
Squad Battles
Division Rivals
FUT Champions
Friendlies
Singleplayer Draft
Online Draft
PlayStation Tournaments
But you don't even have to play games to improve your team. You can unlock packs and cards through squad building challenges, swap events or objectives. We'll explain exactly how to do this further down in the article, but now let's take a look at the various game modes.
FUT Moments
FUT Moments is an offline mode that can basically be compared to the skill games from the training centre of the main menu. In FUT Moments you can complete different, admittedly really simple, challenges to collect Moments stars, which you can invest in packs or loan players. So if you don't know anything about FIFA yet, you can learn the basics in this mode. For advanced players, we would only recommend this mode if there is a Swap Token to be earned.
Squad Battles
The "Squad Battles" mode is recommended for beginners, because here you play against the AI, whose difficulty level you can set yourself. You can play up to 40 games in one week, and you are given teams of different strengths as opponents in four slots. The higher the difficulty level and the better the opposing team is, the more points you receive at the end of the game.
You get bonus points if you score five goals, don't concede a goal, don't commit any fouls and avoiding being offside. Every Sunday you get the rewards here, which are based on your achieved skill count on Sunday morning. Your rank varies according to the points of the other players. So if you have Gold 3 on Wednesday, you will probably slip into Silver by Sunday. You can also earn several objectives through Squad Battles, you can find the info in the menu under "Objectives".

Division Rivals
Via Division Rivals you can collect points for the Weekend League qualification. There are eleven leagues in Rivals, the higher the league, the better your packs. At least that's how it is in theory, there are some FIFA myths that claim otherwise. Note that your matchmaking in Ultimate Team is based on your current Elo and Division Rivals league. There is skill based matchmaking in FIFA 23, so if you play FUT Draft or Online Friendlies, you will only face opponents that match your skill level.
In Division Rivals you need three wins per week for the rewards, with eight wins you get a bonus upgrade. If you reach the Elite Division, you will also receive a red player pick in the rewards. Your progress will be reset by two leagues per new season. Rivals is the most difficult mode in FIFA 23.

FUT Champions: Qualification

You have to earn 1,250 FUT Champions points via Division Rivals to participate in the FUT Champions Qualifier. In the qualification you have a maximum of ten matches to reach 20 rank points. You get four points per win and one point per defeat. With five wins, you have qualified for the Weekend League. Alternatively, four wins and four losses are enough.
For every better rank you get better packs, but the difference between the ranks is not that big. You can qualify for Weekend League six times per season. Compared to Division Rivals, there is no skill-based matchmaking in the Weekend League and in the qualification. This only occurs after about seven matches.

FUT Champions: Weekend League
If you have reached the 20 points, you can play FUT Champions at the weekend. This is the FUT mode with the best rewards. You have 20 games at the weekend, in which the aim is to climb as many ranks as possible using the familiar points system of qualification. For rank 1, however, you have to win 19 out of 20 matches - and only very few players in the world can do that. However, we would only recommend this mode to you if you have been playing FIFA for a while, otherwise the frustration will quickly become a problem.
Here we have summarised all Weekend League Rewards for you, and the packs are really impressive. Compared to the objectives of the friendly matches, these rewards are also tradable and you get a lot of coins. If you want to keep your team up to date, you have to start the 20-game grind almost every weekend. Through the Weekend League you also get the red FUT Champions cards from the current Team of the Week.

Friendlies
If you don't want to sweat it out, you can also test your cards in friendly matches. Here there are various modes in which you can let off steam. Each mode gives different rewards, so always keep an eye on your goals and milestones in the main menu. You can also use the friendlies to earn swap tokens, provided there is an active event (we will keep you up to date here on EarlyGame).
The advantage of friendlies: It doesn't really matter if you lose. Here it's not about FIFA Coins, but mainly about the fun. The disadvantage of friendlies: Here, too, there is skill-based matchmaking. If you don't want to play good opponents, simply don't get promoted in Division Rivals.
FUT Draft
The popular draft mode is slowly but surely falling into oblivion. For 15,000 coins or 300 FIFA Points you can buy your way in, after that you are always presented with five selection slots to fill your team with players. First you have to choose a formation (the 4-3-2-1 is by far the best choice here), then you choose the captain of the team. Now you click on the positions and build your team from random cards. In draft mode, you can play cards that you would otherwise never get your hands on. However, due to the new chemistry system, it is not easy to get good players and full chemistry at the same time.

You have four games in single knockout mode, so if you lose, you're out. The more games you win, the better the (random) rewards become. In many cases, however, the rewards are so bad that you make a total loss if you take the 15,000 coins entry into account.

PlayStation Tournaments
In PlayStation Tournaments you can earn FIFA Points! Put together the team of your choice (loan players are allowed), register for a tournament and you're ready to go. We have summarised how the registration and the rewards work in the following link:

Co-op
You can play Squad Battles, Friendlies and Division Rivals in co-op mode (FUT Champions and the qualification are unfortunately only available in single player). To do this, click on the two figures on the far left of the menu under "Play", invite your buddy and you're ready to go. Co-op also unlocks really good packs, because there are various objectives and milestones for playing with two players.
Objectives

In the course of this article you have already read a lot about objectives and milestones. There are new objectives several times a week, for example, cards or packs that you can earn. You have to fulfil certain requirements, for example scoring goals with a nation. Always keep an eye on the objectives and milestones so that you don't miss out on good players or packs. The Season Pass also runs via objectives, which in turn offers you cosmetics, packs and players to unlock.
Squad Building Challenges
Every day at 7 pm there is a new Squad Building Challenge, in FIFA circles this is called content time. Basically, you hand in (bad) cards from your club to unlock packs or players. You have to consider the requirements for each challenge, for example the overall rating and the required chemistry points of the team you want to give away. We report daily about the best SBCs in FIFA 23 and you should always have a look because EA often publishes SBCs with which they want to fool you. Here we have a selection of the most popular SBCs in FIFA 23:
Now you're all set to hit the ground running in FUT. But do us a favour and don't spend real money on FIFA Points, because it's really not worth it. See you ingame.
This article contains affiliate links which are marked with [shopping symbol]. These links can provide a small commission for us under certain conditions. This never affects the products price for you.