EA introduced a new feature named AcceleRATE in FIFA 23. It changes the running styles of the players. Find out what it's all about – why the pace stats aren't that important anymore – and how you can change your players' running style to "Lengthy", "Controlled" or "Explosive" to make them faster. Essential for your success in FUT.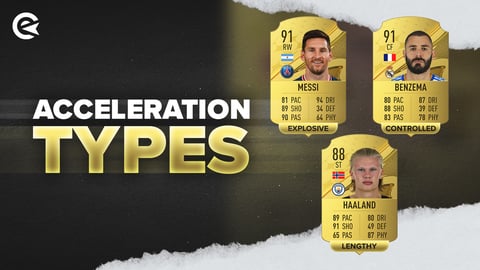 EA Sports has installed a new pace system in FIFA 23. Yes, you've read correctly. Pace isn't everything anymore. The players are divided into different styles of running – and that's really cool. We show you what's really behind that and how you can perfectly use it for yourself to get the best rewards in the Weekend League.
Pace is still the most important factor in FIFA 23, but with the latest Title Update 9 the pace meta shifts to a very specific type of player.
What Is AcceleRATE In FIFA 23?
In total, in FIFA 23 – apart from the well-known pace stat – there are three new sprint types for all players. It is differentiated between "Explosive", "Lengthy" and "Controlled". While Explosive supports the smaller, more agile players, who are especially quick on the first few meters, Lengthy is the exact opposite. Lengthy is the style for bigger and taller pros, who start off slower and reach their full speed at the end of their sprint. Most players have the controlled style, which accelerates more evenly.
The idea behind that is that defenders are often categorized as Lengthy, so they can catch up to Explosive strikers after the first meters. This feature is next gen exclusive, which means you don't feel any of it on your PS4 and Xbox One consoles.
The Best AcceleRATE Types in FIFA 23
The AcceleRATE meta has changed several times since FIFA 23 release. In the beginning, players with the Lengthy AcceleRATE type were the best ones. In comparison to the other running styles, Lenghty was simply bugged and OP. Typical EA, isn't it? Bringing a new feature into the game that doesn't work properly. The Lengthy meta is over, but that doesn't mean the Lengthy players are bad. They are basically just as good as they were a few months ago, since other AcceleRATE types have gotten better.

Until the current Title Update 9, Controlled was the best AcceleRATE type for midfield and attack. In defense, Lenghty remains the best running style. Now, the Explosive acceleration has been buffed, or rather fixed.
Moussa Diaby somehow felt slow with his 99 pace, and since Explosive players basically have little physicality, he not only lost sprint duels but also lacks physical strength. After the patch, his acceleration feels a bit better, but we still think that Controlled players with good physical stats are the better choice.
Kylian Mbappé has the player model and physicality to win duels while maintaining his speed with Controlled. With the step over, which is by the way the best skill move in FIFA 23, Controlled players get straight to their full speed anyway and keep it over the distance.
Change AcceleRATE With Chemistry Styles
You can change the running style of a player with the fitting chemistry styles. This is very important for defenders, because Paolo Maldini, for example, can only get to Lengthy through Anchor. With a Shadow, he has more speed on the card, but the running style is much more important ingame. The same goes for central midfielders like Paul Pogba or Khéphren Thuram.
You can just try around a bit on futbin, there are all options for all players. Look a little further down the page to see which chemistry style the community recommends.
Lengthy Players In FUT
Lengthy can still be a gamechanger in every position. Defensively, all defenders should have Lengthy, but it can also be really valuable in attack.
Big and bulky players become faster with Lengthy than on Controlled or Explosive, and only reach their full speed after a few metres. In addition, they also become more agile than their stats indicate.
That's why you should make sure that you convert strikers like Harry Kane or Cristiano Ronaldo, i.e. players who have less than 90 speed, to Lengthy with a chemistry style. You have to get past TOTY flashback Sergio Ramos somehow, and for that you need the Lengthy pace.
Basically, you need to make sure you have a balanced attack. It doesn't hurt to have all three different AcceleRATE types on the pitch to create a good balance.
Lengthy players fit these requirements:
Strength >/= 65
Difference between strength & agility >/= 14
Acceleration >/= 55
Height >/= 5'7"
Tl;dr: Each AcceleRATE type has its advantages for different positions. Lengthy is essential for defense or strong strikers, Controlled should be used mainly in midfield or with fast attackers. Explosive is best for speedy wingers.

This article contains affiliate links which are marked with [shopping symbol]. These links can provide a small commission for us under certain conditions. This never affects the products price for you.