We definitely can't complain about not getting enough content for FIFA 23! Now EA Sports have even released the so-called Mixed Campaign Player Pick SBC. We'll show you whether you should complete it, and what you can get from it!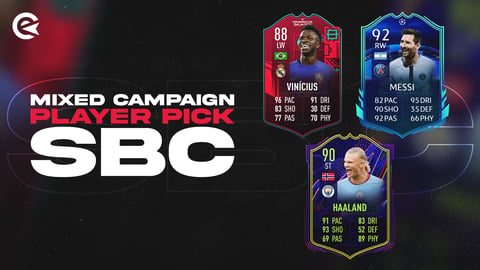 FIFA 23 is only about two months old, but it feels like we have thousands of promos. Especially for the World Cup, we're getting a new team with special cards at least once a week. We already had teams like the World Cup Stars, Road to the World Cup and many more...
In case you missed some of these events and still want to get some more players for your FUT collection, this is now the perfect SBC for you!
This could also be a perfect fit for you and your Christmas wishlist!

FIFA 23: Mixed Campaign Player Pick – What's In It?
In the Player Pick SBC, you can get special cards from many different promo teams. You'll get a Player Pick Object, in which you can choose one out of two cards that are on display. These cards don't have a minimum or maximum rating, so you can really get anyone out of the special teams. You can complete this SBC once a day until December 1, 6PM UK Time. The most important thing, however, is that you know which promos are even in these picks. Let's make it short, these are the promo teams:

So you can't only get cards from the more recent promos, but also from the very first one in FIFA 23, but is it really worth it?

FIFA 23 Mixed Campaign Player Pick – The Best & Worst Picks
Of course, it's nice to know which promos are in these picks, but we also have to take another look at which cards were in these promos, because some of them are now out of the packs for a couple of weeks and with the content overload at the moment, you quickly forget about a few players.
Some of the best players from the Ones to Watch team are surely Sadio Mané, Renato Sanches or Erling Haaland, who, despite the latest patch in which the Lengthy players lost a bit of their effectiveness, is still one of the best strikers in the whole game. But you have to keep in mind that this team also features players like Steven Bergwijn, Corentin Tolisso or Tyler Adams.
The best Road to the Knockouts cards, you could get are definitely Lionel Messi, Federico Valverde and Pierre-Emerick Aubameyang. However, you could also get Martin Terrier, Patrik Schick or Jonathan Ikoné, who aren't even that bad ingame but only cost around 20k coins each.
In the Rulebreakers team, Sergio Ramos, Franck Ribéry and Cristiano Ronaldo are obviously very strong. But on the other hand, there are also players like Héctor Herrera, Aurélio Buta and Thomas Meunier, who are only worth as much as their cost discard value.

The Out Of Position team really isn't that old, and you can maybe still remember Ansu Fati, João Cancelo and Mohamed Salah – These would be the best options. But there were also the cheap cards of Suso, Noussair Mazraoui and Isaak Touré.
For the last special team in the picks, there are some real bangers once again! With Leon Goretzka, Christopher Nkunku and Vinicius Jr. you can get your hands on some real endgame cards, who could even get some more upgrades. Unfortunately, there are also players like Bryan Oviedo, Jonathan Osorio or Akram Afif...

We have linked all teams for you above, so if you want to see every player you could get, check out these articles!
What's The Price For The Mixed Campaign Player Pick SBC?
Now you already know who you could possibly get in the SBC, and there are some really nice cards in it. The whole thing is useless though if you don't know how much you have to spend for this SBC in the first place. We'll show you now.
For this SBC, you have to submit one 83-rated team with at least two players who have a minimum rating of 85 and one 84-rated team with at least two players who have a minimum rating of 86. In total, this Squad Building Challenge will cost you about 80,000 coins, if you have to buy every player you submit on the transfer market. But if you still have some untradeable cards from the World Cup Swaps, for example, you can get the whole thing much cheaper.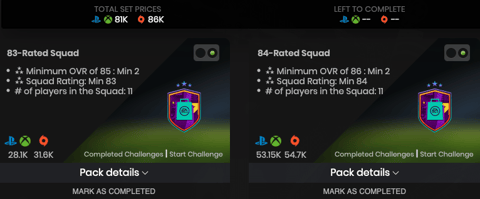 Is The Mixed Campaign Player Pick SBC Really Worth It? Our Conclusion
Yes and no. It comes down to your coin balance on your FUT account. If you're short on money at the moment, and you can't afford to sell more players from your main team, definitely keep your hands off this Squad Building Challenge. Because although there are crazily good players you could get, there are at least exactly as many cards that will be on your bench for the rest of FIFA.
If you still have a lot of coins and some more untradeables in your club, and you're really tempted by this SBC, go for it! It's definitely a big gamble, but that's exactly why these SBCs exist.
This article contains affiliate links which are marked with [shopping symbol]. These links can provide a small commission for us under certain conditions. This never affects the products price for you.