Gun Interactive isn't done developing horror-themed multiplayer games, as they're currently developing The Texas Chainsaw Massacre. That's right, Leatherface is coming back to West Texas. Will you be capable of surviving against this murderous man? Will you even want to experience this level of horror? Let's find out.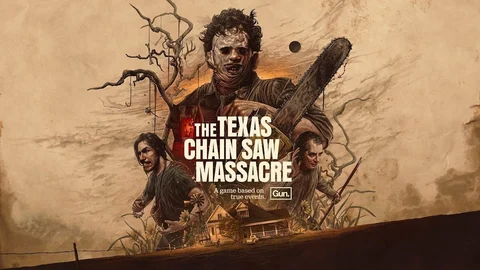 The horror genre has sustained an unexpected growth in recent years, as games like The Callisto Protocol and Scorn make their way to next-generation consoles. But these horror-themed games will struggle to compete against Gun Interactive's Texas Chainsaw Massacre. Why might you ask? Because this developer has experience with horror-themed multiplayer games.
Gun Interactive developed Friday the 13thfor the Xbox One and PS4 in 2017. Since then, they've continually updated the game to ensure their loyal players are entertained. However, things have changed as Gun Interactive has announced The Texas Chainsaw Massacre for 2023.

There's more information on this upcoming title than you'd expect, and we're here to break everything down for you at EarlyGame. Let's find out who Leatherface is going to kill next.
Is Texas Chainsaw Massacre Coming Out In 2023?
Gun Interactive provided an official gameplay trailer for The Texas Chainsaw Massacre on June 14th, 2022. It's confirmed by the trailer's end that this upcoming horror game will launch in 2023. However, an official release date wasn't provided beyond 2023. Therefore, we expect this game won't launch until next year's holiday season.
It's noted that The Texas Chainsaw Massacre will launch for the last & next generation of gaming consoles. As such, nobody is limited from experiencing this upcoming game.
Game Setting, Story, and Everything We Know About Texas Chainsaw Massacre
As previously mentioned, The Texas Chainsaw Massacre is set within the western region of this state. Early into the game's storyline, you'll hear that law enforcement is searching Muerto County for Maria Flores, a missing student from the University of Texas. It's reported that Maria was last identified two months ago in the Town of Newt. Law enforcement recently located her vehicle on Country Road 172 but noted that the evidence found wasn't suggestive of foul play. It's then urged that family & friends come forward with any information regarding Maria's disappearance.
Ana Flores, the younger sister of Maria, grows impatient with the Sheriff Department's lack of action and begins her search. Her amateur efforts to decode the mysteries around Maria resulted in pivotal evidence. Still, the mystery only expands as Ana Flores and her friends become confused by the possibility of Leatherface.
Julie: Surfing & sports are the lifestyles for Julie, a Southern Californian. But will these talents have prepared her for The Texas Chainsaw Massacre? Will her physical abilities be powerful enough to overcome Leather?
Leland: This former wrestler is reliving his glory days as the toughest member of this group. He has physical strength that everyone else lacks. However, Leland's intelligence is minor, and teamwork is needed with his character.
Connie: This farmer is more intelligent, capable, and crafty than anybody could have expected. She will utilize all her talents to create various items for the group.
Sonny: This character is considered the smartest within the group. He'll use this intelligence to have a better level of perception and situational awareness. You can be guaranteed that Sonny will always know when Leatherface is around.
Ana: Our final character is motivated by her father's death, which causes her to become a natural leader. She won't allow Maria's disappearance to go unheard by law enforcement, and she'll take up the mission of recovery on her own accords.
These characters will compete in stealth-based combat, as Gun Interactive focused on developing gameplay similar to cat & mouse. We will traverse hallmark locations throughout The Texas Chainsaw Massacre while exploring new environments created directly by Gun Interactive. It's suggested that whenever competing, always keep your eyes and ears open for what's coming, as Leatherface could be anywhere. Here are some tips to stay safe:
Silence all sounds, including footsteps and breathing
Eliminate all forms of lighting from your surrounding area
Remain within the shadows to avoid the detection of Leatherface
Collect what abilities and weapons are available to attack if needed
It's promised that The Texas Chainsaw Massacre will have moments of tension combined with clashes of action. Gun Interactive has stated that players will choke on their breath as teammates are murdered around them by Leatherface. We know this sounds scary, but don't worry, as Gun Interactive hasn't failed before and won't start now.
Is Texas Chainsaw Massacre Coming To Xbox Series X/S And PC?
Gun Interactive revealed that The Texas Chainsaw Massacre would arrive for the Xbox Series X/S, PC, and Xbox One. In addition to Microsoft's platforms, it will release onto the PlayStation 4 and PlayStation 5. This means everyone should have the opportunity to experience this game. However, there isn't any confirmation of cross-play multiplayer being supported for the Texas Chainsaw Massacre.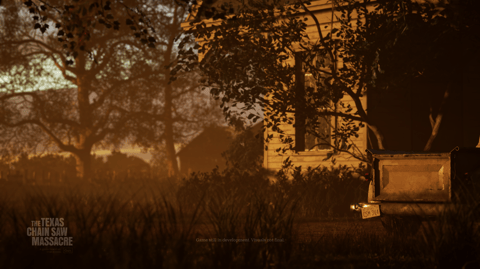 It would be a failed opportunity not to include this feature with the upcoming horror game, as Gun Interactive is introducing a 4v3 system that allows four co-op players to battle against three bloodthirsty stalkers. This should create an exciting dynamic in the gameplay, as teammates will need to protect each other and themselves. It might sound easy at first, but numerous challenges will be involved in overcoming three enemies.

The Texas Chainsaw Massacre will launch in 2023 for the Xbox Series X/S, PS5, Xbox One, PS4, and PC.
Is Texas Chainsaw Massacre Part Of The Xbox Game Pass?
Gun Interactive announced that Texas Chainsaw Massacre is arriving on the Xbox Game Pass. The announcement came during the unrated gameplay trailer, and we couldn't be more excited. It's expected that Texas Chainsaw Massacre will launch on day one for the Xbox Game Pass.
PS4 and PS5 players will be required to purchase this game for 49.99 GPB/59.99 EUR/69.99 USD/89.99 CAD on the launch date.
Game Trailer
This trailer is rated R+, as demonic murders and the sadistic Leatherface burden our survivors throughout the West Texas landscape. But these burdens are short-lived, as Leatherface tortures these survivors until they haven't any more life to live. Disturbing, isn't it? Well, that's the point. This game is meant to terrify you; only the strongest will survive.
Game System Requirements
Anyone playing The Texas Chainsaw Massacre on PC is recommended to have the following system requirements. Otherwise, frame-rate issues could be experienced along with an assortment of other problems. Remember that these system requirements aren't guaranteed, and they are based on Hogwarts Legacy from Portkey Games.

Minimum System Requirements
| | |
| --- | --- |
| Category | System Requirement |
| Operating System | Windows 10 and Windows 11 (64-Bit) |
| CPU | Intel Core i5 6600K / AMD FX-8350 |
| RAM | 8GB |
| Storage Space | 40+ GB |
| Hi-Rez Assets Cache | TBC |
| GPU | NVIDIA GeForce GTX 980 / AMD Radeon R9 290X |
| DirectX | Version 12 |
| Graphic's Driver | TBC |
Recommended System Requirements
| | |
| --- | --- |
| Category | System Requirement |
| Operating System | Windows 10 and Windows 11 (64-Bit) |
| CPU | Intel Core i7-6700 / AMD Ryzen 7 1700 |
| RAM | 8GB |
| Storage Space | 40+ GB |
| Hi-Rez Assets Cache | TBC |
| GPU | Nvidia GeForce RTX 3090 / AMD Radeon RX 6900 XT |
| DirectX | Version 12 |
| Graphic's Driver | TBC |