Here's everything you need to know about God of War Ragnarök, the sequel to the fantastic God of War reboot from 2018, including the release date, details on the story, changes to the gameplay and the exciting trailers.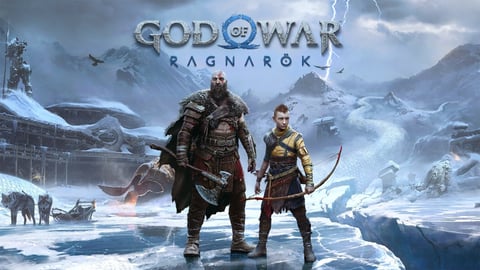 Santa Monica Studio released the God of War reboot in 2018 to magnificent critical and commercial acclaim, with fantastic scores and more than nineteen million units sold for the PlayStation 4. This meant that it was one of the best-selling PS4 games of all time, falling just behind Marvel's Spider-Man. This big success made a sequel inevitable.
Imagine the excitement everyone felt during PlayStation's PS5 reveal event, as Sony and Santa Monica Studio showcased the upcoming God of War Ragnarök, the direct sequel to the 2018 reboot. Two years have passed since the game was announced, and the release is coming ever close. So, everyone is clamoring for more information on the game. Luckily, more and more gameplay and storyline details have been revealed by Santa Monica Studios over time. We also finally have the release date after having to wait so long for it. In this article, you will see everything you need to know about God of War Ragnarök.
God Of War Ragnarök Release Date – Coming In November
Let's get the most important thing out of the way first: God of War Ragnarök will release on November 9, 2022 for PS4 and PS5. A PC version for Ragnarök has not been announced yet, but considering that the predecessor came to PC years down the line, we expect the same to happen for Ragnarök.
Next to the standard version of the game, there will also be two special editions available for purchase: the Collector's Edition for $200 and the Jötnar Edition for $260. These have caused some controversy though, check that out in this video:
Setting & Story in Ragnarök – Explore The Nine Realms To Fight Odin & Thor
God of War Ragnarök will be set a few years after the first game. You're again playing as Kratos, the Ghost of Sparta. Your son Atreus has grown into a teenager, still trying to figure out the real nature of his identity. First story details were revealed via the official PlayStation website:
Kratos and Atreus must journey to each of the Nine Realms in search of answers as Asgardian forces prepare for a prophesied battle that will end the world. Along the way they will explore stunning, mythical landscapes, and face fearsome enemies in the form of Norse gods and monsters. The threat of Ragnarök grows ever closer. Kratos and Atreus must choose between their own safety and the safety of the realms.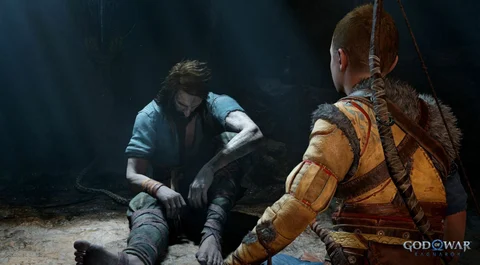 We don't yet know how those events will exactly play out within the campaign. We're expecting Kratos to face off against Thor and Freya, with the new character Angrboda, whose role still remains mysterious, in the mix as well. We'll also see other new characters, like Tyr, known as the imprisoned son of Odin. In the official reveal trailer (which you can, and should, watch down below), we see Kratos and Atreus freeing Tyr from prison. It's presumed his hatred towards Odin will help Kratos & Atreus defeat their enemies throughout Ragnarök.
Click here to buy God of War Ragnarök for PS4 or PS5 !
It has been revealed that Thor will be in Ragnarök as one of the main antagonists. His appearance was already teased in the hidden ending of God of War (2018) and it has been officially confirmed that he will be in the game. We also know that Odin will play a major role, but not much about the character has been revealed yet. He has been teased in the most recent trailer (check it out below), but maybe Sony Santa Monica are keeping his full appearance under wraps as a major surprise in the game.

Are We Visiting All Nine Realms in God of War Ragnarök?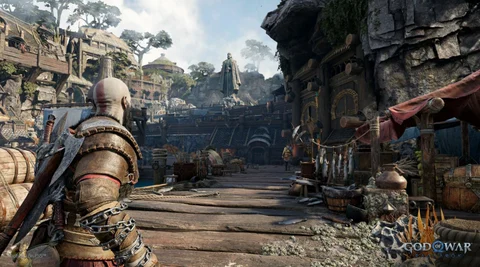 The reboot for God of War introduced six of the nine realms in Norse Mythology. This meant that Svartalfheim, Vanaheim, and Asgard were unplayable locations in God of War. That's changing with the upcoming sequel. It's been confirmed that these three locations are being introduced into God of War Ragnarök.
We will be visiting the home world of Odin, Thor, and Freya Asgard, the Vanir world Vanaheim, as well as the Dwarven home Svartalfheim. The latter of the three has been shown off pre-release, and it looks very cool! Check out the video here:
GoW Gameplay – How Kratos and Atreus Have Changed
While the game, on the surface at least, looks very similar to God of War (2018), it can be expected that the gameplay mechanics will be refined and expanded upon. You will again play as Kratos, swinging the Leviathan Axe or his iconic Blades of Chaos. His son Atreus, now a teenager, will be by his side again, aiding him with his bow and summons. But things seem to have changed more than appears on first sight.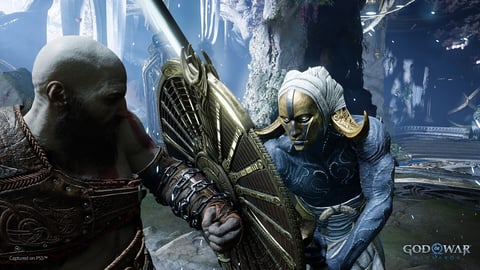 We got some news about how the battle system will change in God of War Ragnarök thanks to the lead combat designers of the game sitting down with Game Informer for an interview. In this, they reveal their mantra of letting Kratos "play with his food".
What was important to the team for Ragnarök was that the player has a lot of choices on how to approach a battle and how to win it. What's new in Ragnarök? For one, Kratos is more mobile than in the previous game. While he is still supposed to feel heavy, he is a bit quicker and can move around more dynamically during battles. Additionally, his Blades of Chaos will function as a sort of grappling hook, which is an exciting addition to his arsenal.
The game will also have something called Weapon Signature Moves. These moves will be tied to the Triangle button, which didn't do anything else but recall the Leviathan Axe in the previous game. With these moves, you can either charge up your axe or your blades, to give them elemental damage: ice or fire, depending on which weapon you're using.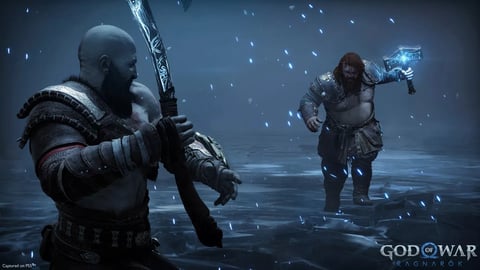 Atreus has also become stronger, not just by growing up in the story, but also in combat itself. He will also get new abilities, which haven't been fully revealed yet. In gameplay footage, you can also see that there are now more interactive objects for him in an arena. This promises more opportunities and more dynamic fights in combat arenas.
Additionally, Kratos will be able to wield more than one shield (the new shields are called Dauntless Shield and Stonewall Shield) and both will have unique abilities.
| | |
| --- | --- |
| Shield | Ability |
| Dauntless Shield | Parry & counterattack enemies |
| Stonewall Shield | Recycles hits you receive and turns it into energy for a powerful attack |
The shields don't just come with unique properties, but also have downsides that players will need to balance. One example is, that the Stonewall shield will eventually break, so you will need to balance your usage of it. There will be more shields further down the road, and the developers most likely have other surprises up their sleeves as well.
You Need To Watch The Amazing Trailers
Sony has been fairly quiet in the marketing of God of War Ragnarök, showing us only a few trailers and glimpses of the game. We got a few trailers, all very different in tone and style. Sony released a trailer retelling the story of God of War (2018), which you need to watch if you haven't replayed the game recently. We also saw a cool teaser trailer titled 'Father and Son', which is short but sweet.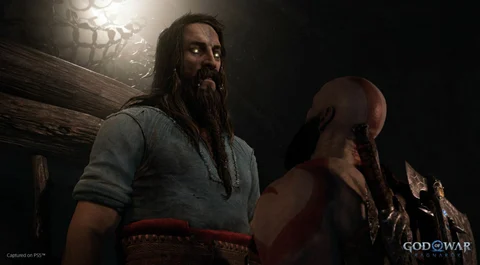 The major ones are the reveal trailer from 2021 and the story trailer from 2022. These were the most extended showings that were released for Ragnarök, and they are both pure hype. The trailers reveal some incredibly exciting possibilities for the story, some new locations and riveting dialogue between Kratos and Atreus. Oh, and of course the epic fight between Kratos and Thor. Must-watch.
And if that's not enough, you can also check out the launch trailer here. That's everything we know about God of War Ragnarök ahead of its release on November 9. We will update this article as soon as new details about the game are revealed.
This article contains affiliate links which are marked with [shopping symbol]. These links can provide a small commission for us under certain conditions. This never affects the products price for you.