In Hogwarts Legacy, the Room of Requirement functions as your home base of sorts, and it's one of the best features in the game. Here's a complete guide to unlocking and upgrading the Room of Requirement.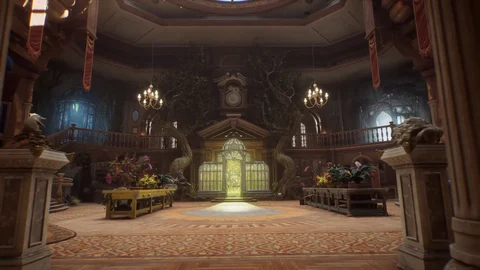 Hogwarts Legacy has now been released (well, for next-gen consoles, old-gen players need to wait a little longer). And generally speaking, the critical reception has been very good, despite the boycott.
One of the best features in Hogwarts Legacy is the Room of Requirement. Here is a complete overview of the room, including our recommendation for upgrades, and an explanation of how to unlock.
Hogwarts Legacy Room of Requirement Explained
If you've read the books and watched a lot of the gameplay previews about Hogwarts Legacy, you can probably skip this section. If not, here's a brief overview of what this room actually is.
In the books, The Room of Requirement is a secret room that appears to those in need. The room takes whatever form the occupant wants, and it can be used for all manner of things. It could be a secret place to practice your magic, or it could simply be a room to hide things.
But in the game, the Room of Requirement doesn't appear randomly. You unlock it, and then it's always available to you. It's a private space shared only by you and a House Elf called Deek, and it contains everything you might need.
You can use the room to grow plants, brew potions, and house the mounts and pets you have collected. The room can be edited entirely to your liking, with a huge range of cosmetic options to choose from.
Speaking of mounts...
How To Unlock The Room of Requirement in Hogwarts Legacy
The Room of Requirement is introduced to you by Professor Weasley after completing the main story mission Tomes and Tribulations. Professor Weasley will send you a letter, and you just need to go and find her. This happens fairly early into the game if you're focusing on main-quests, before the first seasonal change to Fall.

Once unlocked, you can always Fast Travel directly to the Room of Requirement. It's under Hogwarts → Secret Room → Room of Requirements. But if you prefer to travel by foot, you'll find the entrance halfway up the Astronomy Tower (and use Revelio when you get to the door, because there's a Field Guide Page to be collected from the tapestry opposite).
How To Upgrade The Room of Requirement
The Room of Requirement can be upgraded in two separate ways. It can be physically expanded to gain new rooms, and it can be customized by changing designs and adding new pieces of furniture.
Getting New Rooms
You can unlock new Rooms and areas within the Room of Requirement by progressing through the main story missions. There's no way to cheat this and get access to rooms like the Vivarium early. You simply need to play through the main-quests, and as you progress you will receive letters from Professor Weasley that tell you to return to the Room and speak with Deek (the House Elf who manages the room).
Tempted to buy the game after hearing about the Room of Requirement? Here's a link to buy Hogwarts Legacy!
Unlocking New Conjuration Recipes
You can unlock new items to put in the room, like potting stations and potion cauldrons, by either finding conjuration recipes in chests around the world, or by buying the recipes directly from Tomes & Scrolls in Hogsmeade. Tomes & Scrolls have access to a lot of the functional equipment, but most of the cosmetic stuff is discovered in chests.
You can change the color and style of items in the room, as well as the walls and floors, at any time. This costs nothing, and you start with all possible colors and styles.
The Best Things To Build In The Room of Requirement
The Room of Requirement is incredibly personal and so you should design it however you want, but there are a few things we suggest doing with the Room of Requirement when you first unlock it. Here's our personal build order to start with:
Delete all the cosmetic items that come with the room by default, like paintings and carpets, to acquire a hugepool of Moonstone early.
Buy a Moonstone Refinery recipe from Tomes & Scroll and build three of these as soon as you can (then you can begin generating the resources you need to keep building the room for free).
Build two potting stations and begin planting Dittany and Mellowsweet (Dittany will be used for Wiggenweld Potions and Mellowsweet is needed to activate Merlin Trials).
Build at least one potion brewing station, so you can be constantly producing Wiggenweld Potions.
As soon as you have the Vivarium unlocked, build the Beast Feeder. And build it again in any of the subsequent Vivariums you unlock.
Those are great first builds for any player, but once you have lots of gold and are deeper into the game we also recommend the Hopping Cauldron.
How are you going to build your Room of Requirement? And what creatures are you going to populate it with?
This article contains affiliate links which are marked with [shopping symbol]. These links can provide a small commission for us under certain conditions. This never affects the products price for you.